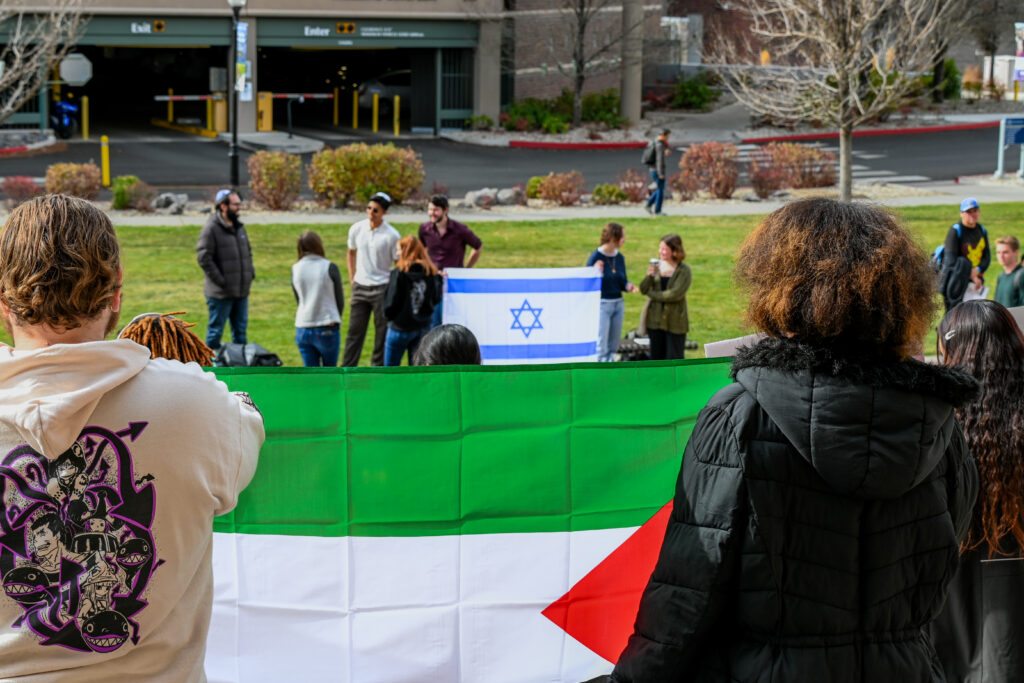 Editor's Note: The Nevada Sagebrush is not a global news source and simply reports on campus happenings. For more information about the conflict in Israel and Gaza, please refer to other, more global media organizations.
Brian Sandoval, president of the University of Nevada, Reno released a statement to the campus community calling for "solidarity on campus" based on the "tragic events" in the Middle East.
Here is the president's full statement:
"Dear Wolf Pack Family,
The events that continue to occur in the Middle East are tragic with significant loss of innocent lives. Students, faculty and staff on our campus, as well members of our community, have all felt a sense of sadness, frustration and pain, among many other emotions during this time. Emotions are running high, yet our University community must remain respectful, kind, and considerate of each other.
The University in the strongest terms condemns all forms of racism, antisemitism and Islamophobia.
Over the past few weeks, as I have had conversations with individuals on our campus including the members of Hillel of Northern Nevada, Chabad, and the Muslim Student Association, one thing has been abundantly clear: This is an extremely challenging time, one of worry about the future and of great heartache for lives that have been lost. In addition to the meetings I've had with these student groups, University Police Services Chief Eric James has also met with these groups and others on our campus who, in addition to their thoughts, have expressed concern about their safety on our campus.
Both Chief James and I wish to assure the campus community that the University is committed to ensuring that everyone – our students, faculty and staff, as well as visitors from the community – feel safe whenever they are on our campus. Violence of any kind will not be tolerated.
People on our campus have a right to peacefully express their point of view on our campus without threat or retaliation. Constant conversation and thoughtful expression of ideas is what a campus must always embrace, as it ensures that its people are seen, heard and acknowledged.
Although we value the practice of freedom of speech, we do not support speech that threatens, hurts or directs hate toward any individuals or groups of people.
This has been a time of anxiety and pain for many. I wish to remind everyone there are a number of campus resources that can help. Counseling Services offer therapy and psychological services for students; the Downing Counseling Clinic (through the College of Education and Human Development) offers therapy services for students, faculty and staff; and the Employee Assistance Program is available for faculty and staff. The University's LiveWell program is also available to help you prioritize your well-being and navigate campus resources that are available to help you do so.
I also wish to reinforce previous messaging from the Nevada System of Higher Education from an Anti-Discrimination Resolution adopted in September 2022 reaffirming our commitment to an environment that celebrates inclusivity and equity for all faculty, staff, students and our communities.
Promoting understanding and practicing mutual respect is at the heart of our mission and is what we endeavor to do each day on our campus. Let us continue to have the important conversations that lead to a better understanding of world events, and of each other.
I wish to encourage the entire campus to continue to listen to one another with care, empathy and respect."
ASUN letter
The Associated Students of the University of Nevada, Reno also posted a statement on Instagram regarding the Middle East events.
Here is the full statement:
"ASUN wishes to acknowledge the international crisis felt by our Muslim and Jewish communities. We recognize that students from these communities are grieving, and we extend our heartfelt condolences to those affected by the ongoing conflict.
It is crucial for us, as the undergraduate student government, to emphasize the importance of mutual respect and understanding during these challenging times. We stand firmly against any form of discrimination and violence, be it antisemitism or Islamophobia.
Our university is a community that thrives on diversity, and it is imperative that we foster an environment where all students feel supported and heard.
Please join us in acknowledging the humanity of our students and Wolf Pack community.
Resources:
Counseling Services: (775) 784-4648, Pennington Student Achievement Center
After Hours Counseling Line: (775) 297-8315
The Multicultural Center: (775) 784-4936, thecenter@unr.edu, Joe Crowley Student Union
ASUN Center for Student Engagement, Dr. Sandy Rodriguez: (775)784-6149."
Jaedyn Young can be reached at jaedynyoung@sagebrush.unr.edu or on Twitter @jaedyn_young3.