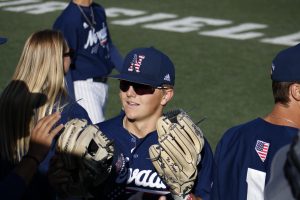 After winning three of four conference games against the United State Air Force Academy, Nevada baseball faced Saint Mary's College. The 13-3 win over the Gaels put them at a four-game winning streak.
Nevada had four different pitchers in this game: Jacob Biesterfeld, Boon Fay, Tyler Cochran and Jacob Gebb. Biesterfeld had 50 pitches, Fay had 43, Cochran had 47 and Gebb had six.
The Wolf Pack got their first runs of the game in the second inning. Dario Gomez had an RBI, run batter in, double to left field and one runner scored. Pat Caulfield hit a home run to left field, which added three runs for Nevada. They took an early lead of 4-0.
The Gaels wouldn't touch home plate until the fifth inning. With two runners on base, Gavin Napier had an RBI groundout to gain one run. The score changed to 4-1.
Nevada showed the Gaels that they could do the same thing in the same inning. The Wolf Pack had two runners on base and scored off of a failed pickoff attempt. The men increased their lead to 5-1.
The bats came to life for Nevada in the sixth inning. The first three batters up – Joshua Zamora, Anthony Flores and Tyler Bosetti – all hit singles to make bases loaded. The Gaels put in a new pitcher, and the third pitch he threw hit Dawson Martin and gained one run for Nevada. M
Matt Clayton hit an RBI double with bases loaded and two runners scored. Gomez did the same thing and added to more runs. The Wolf Pack had a nine run lead at 10-1.
Saint Mary's College made the score 2-10 when the fourth batter up hit an RBI fly out.
The eighth inning came around, and the Wolf Pack added three more runs. The first came from an RBI groundout by Peter Mendazona. Next, Zamora hit his second double of the game which brought two runners to home plate. Nevada led 13-2.
With their last at bat, Saint Mary's only added one run to the scoreboard. Pinch hitter Javy Espinoza had an RBI groundout to finalize the score at 3-13.
Nevada is now 20-15 overall and 12-6 in conference play. The men will be out of town for the next eight games. First, they travel to San Jose State for three conference games on April 22 to 24. Then they will go to the University of Arizona for four non-conference games and face Saint Mary's for another non-conference game.
Kelsey Middleton can be reached at kelseymiddleton@sagebrush.unr.edu or on Twitter @sportsbykels