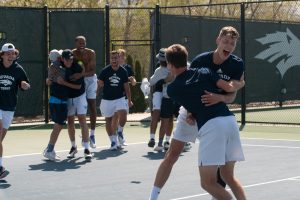 With the last two matches of the season, men's tennis defeated in-state rival University of Nevada, Las Vegas and San Diego State University. They finished their season 5-1 in conference and became the Mountain West Regular Season Champions for the first time in 40 years.
At home on April 20, the men faced UNLV. Nevada won two doubles of three doubles matches and three of six singles matches.
Matheo Coupu and Delmas N'Tcha won 6-0 against number ones Zac Brodney and Milos Dabic. Loris Zisswiller and Satchel Benn won 6-3 against the number twos. Daniel Dudockin and Juan Batalla lost in a close match at 4-6.
In singles, there were two unfinished matches for Zisswiller and Coupu. N'Tcha won his match in two sets at 6-2 and 6-4. Benn had closer sets but ended up winning 6-4 and 6-3. Dudockin had the same outcome as Benn and added another win for Nevada. Batalla lost his singles match against number two Jordan Sauer at 4-6 and 2-6.
Nevada won 4-1.
Next, the Wolf Pack faced San Diego State on April 23 and won 4-2.
The men won two doubles matches. Coupu and N'Tcha won against the number ones 6-4. Zisswiller and Benn had a 7-6 winning match. Dudockin and Batalla lost 5-7 against the number threes.
Nevada won three out of six singles matches. Zisswiller was the only one to succeed in two sets at 6-4 and 6-2. Dudockin and Batalla defeated their opponents in three sets. N'Tcha had two close sets, scoring 4-6 in each, against number three Victor Castro. Benn lost 3-6 in both of his sets. Coupus match went unfinished.
Zisswiller was named Mountain West Player of the Week after his multiple victories during the week.
Nevada men's tennis will head to the Mountain West Championships on April 30 in Colorado Springs. There they will face either San Diego State or Air Force.
Kelsey Middleton can be reached at kelseymiddleton@sagebrush.unr.edu or on Twitter @sportsbykels