Arguably remixed more often than the originals are read, the novels and short stories starring nineteenth-century sleuth Sherlock Holmes have spawned a tireless string of adaptations. A vast range of tone marks the — now-fully public domain — intellectual property: Holmes can be found in grounded thrillers, sprightly teen adventures and even the odd paranormal fantasy series.
This winter, at Reno Little Theater, he can be found in the zany slapstick comedy "Ken Ludwig's Baskerville: A Sherlock Holmes Mystery," played by University of Nevada, Reno acting instructor Rosie Calkin.
The script is penned by Ken Ludwig, a playwright well-known for "Lend Me A Tenor," and it plays fast and loose with the 1902 Arthur Conan Doyle novel "The Hound of the Baskervilles." Its conceit is a staple in the mystery genre: a rich, title-bearing Englishman dies — that'll be Baskerville. Someone unexpected inherits the fortune. The detective must find the killer looking to cash in on the will before the hapless heir meets his doom.
As far as Holmses go, Calkin is a singular delight. She plays the detective in what's often called a "pants" role, donning the traditionally masculine costume with unchanged pronouns in the script.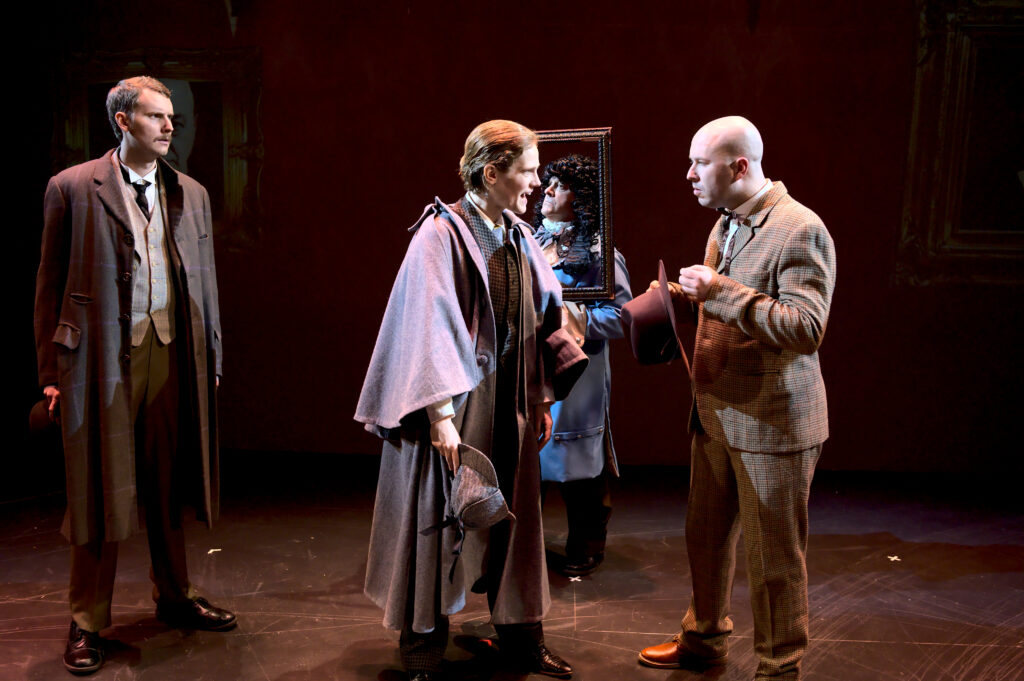 It's exciting enough to see Calkin take the helm as such an iconic — and overwhelmingly male-casted — character. But it's her expressive physicality and full-bodied use of the voice that make the performance memorable beyond the subversive casting.
Hers is a chain smoking, cantankerous Holmes utterly unconcerned with the cool he's been projecting in more recent adaptations. An approach like this shucks the subtle wit we've been taught to expect from Sherlock Holmes, but for good reason. He's actually hilarious as an erudite stooge instead.
Playing well off of Calkin's Holmes are four other star players in an intimate cast of five. Besides the detective's partner-in-solving-crime, Watson — played with antsy charm by Ryan Costello — all are employed in the service of dozens of other characters.
To set them apart, the script demands they be loud, exaggerated and wildly inventive. Luckily, Jim Sturtevant, Ian Sorenson and Jessica Johnson, as Actors #1-3, prove uncowed under their deluge of responsibilities.
Where it might otherwise get visibly tiresome, playwright Ken Ludwig skillfully lashes a touch of self-awareness to break the fourth wall for some grumbling: Sturtevant gets to protest at one point over a litany of quick costume changes, and it might be the biggest laugh of the show.
Johnson — whom I saw as an understudy on the show's penultimate weekend of Feb. 12 — is the cast's sleeper treasure in the many roles of Actor #3. She shows an impressive willingness to go places silly enough to make any actor feel sheepish and exposed — and then, miraculously, goes even further.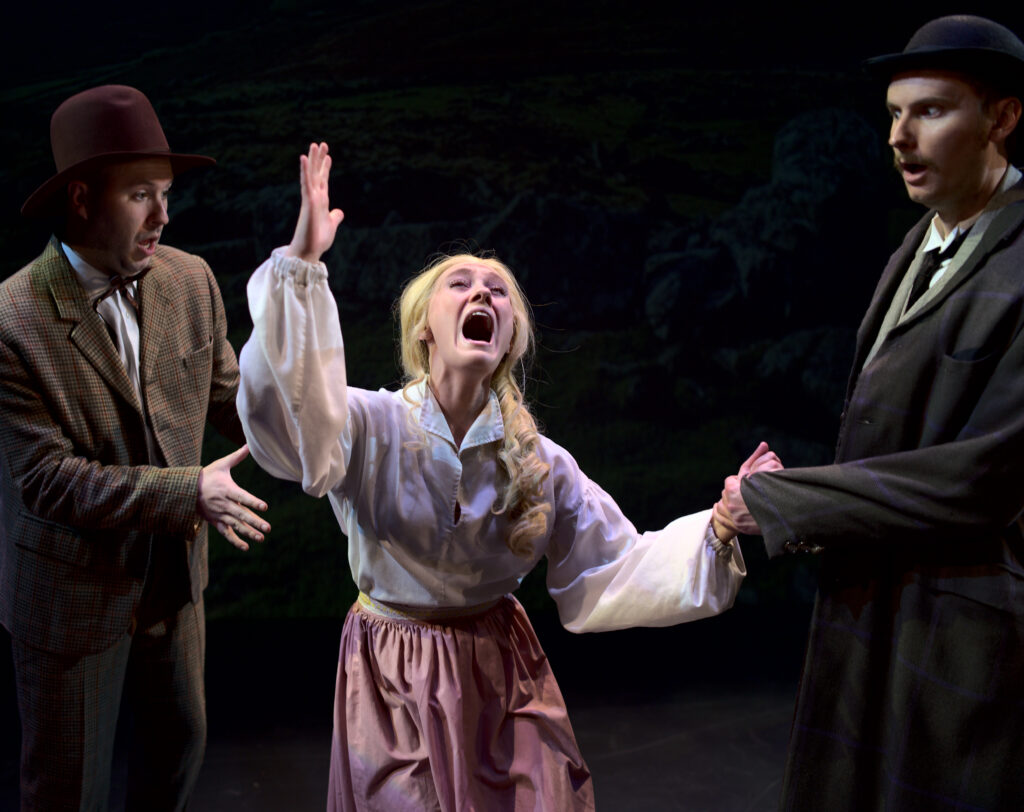 But a strong troupe of actors is only half the battle for a show so invested in plot and action. For the rest, it takes an understanding of the form to make theater really shine. This means knowing its strengths, but also its technical limitations.
Where comedy is concerned, both Ludwig's script and Chad Sweet's directing actively use all the things a small production usually can't achieve to grasp at a special flavor of humor that only comes from lack. From acknowledging the presence of the same actor in different roles to situational gags built into the multi-functional set, "Baskerville" has the advantage of the tongue-in-cheek on its side. Wigs fly, chaos reigns and everyone has a messy good time.
Comedy, however, can come at a price. Ludwig, if anything, tries to be too funny too much of the time, which gives the script a limited emotional palette. When the top-notch lighting and sound are working their hardest to make things gloomy and perilous, you can almost feel an ill-timed extra joke snuffing out the suspenseful flame.
Ludwig is a local theater favorite for a reason. He predictably delivers laughs with a wide and fast net. He's a total crowdpleaser. Even if you're among the most jaded viewers, one of the script's endless gags will get you, and that's only if one of director Chad Sweet's clever additions hasn't already.
But if it's all you have, comedy can seem a little too easy to achieve. Easier, certainly, than horror or despair or relief. In fact, you can wind up cutting off your actors when they, being good actors, reach for another area of their well-rounded skill set.
In moments, the ensemble at the heart of "Baskerville" will land at a silent exchange with emotional honesty of a different tenor. And because they're connected deeply with their characters, it's sublime — until Ludwig drags them back to the jokes like a demanding foreman. One would almost think he's afraid to fall below a certain volume of gags per minute.
Ludwig's tendencies don't do anything truly damaging to the show's structure until well into the second act, but it's a doozy. The climax, which is presumably pretty harrowing in the original, bounces off the stage like silly putty.
The conclusion's central conceit is that Holmes has been uniquely unmoored by this case on England's shadowed moors. But all the tools necessary to convey this have been slowly undermined by the script. It limits the lighting and set's skillful building of atmosphere. It cuts off the briefest tastes we get of conflict between Holmes and Watson before they even begin.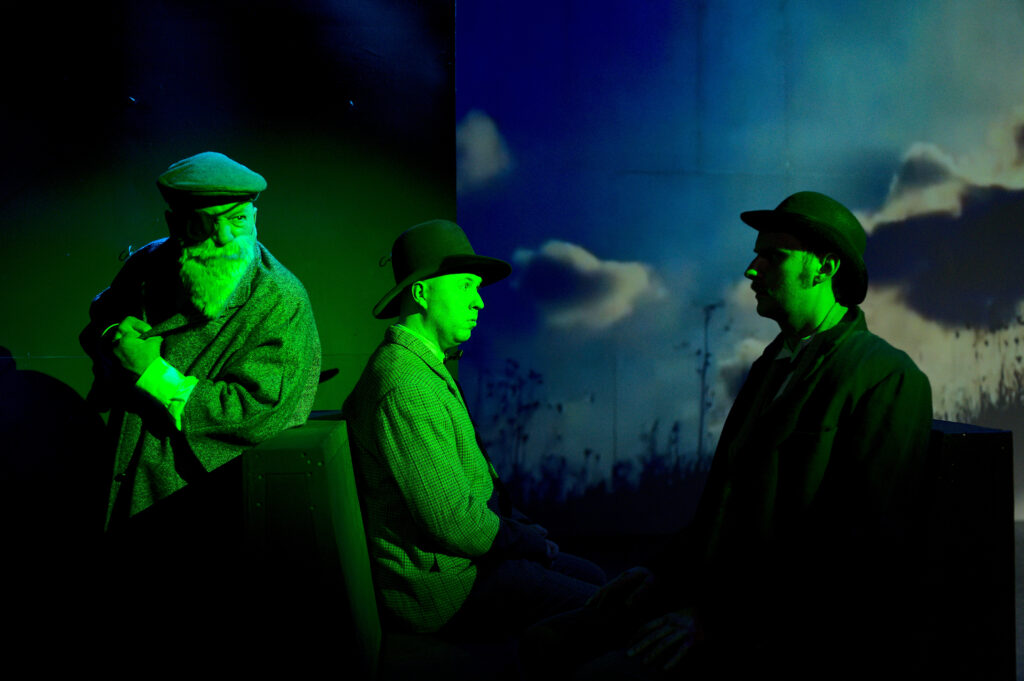 "Ken Ludwig's Baskerville: A Sherlock Holmes Mystery" is so freaking funny — and that takes impressive technical and performance skill; it's no small feat. But in the end, thanks to the playwright, it's not much more than that.
Reno Little Theater's 2022-23 season continues with "Small Mouth Sounds," running April 14-30 this spring. 
Peregrine Hart can be reached via email at peregrineh@nevada.unr.edu or on Twitter @pintofperegrine.