Fans have seen students perform through many different mediums at the University of Nevada, Reno.
Through musicals, plays, concerts and recitals, the audiences have seen phenomenal performances of UNR students playing out their shows that they've spent hard-working time and energy on.
This performance was no different with its quality of hard-work. This one felt a little more home-y than the rest, something that was quite appealing to watch.
Students were able to perform vocal duets, trios and bigger groups which were very adorable and portrayed pieces of individual performers personalities through their music.
It was fun, entertaining and well-worth the hour in the Harlan O & Barbara R. Hall Recital Hall on Dec. 7. The joint voice studio recital contained nine performances put together by Professor Brittney May and Professor Katherine Parker.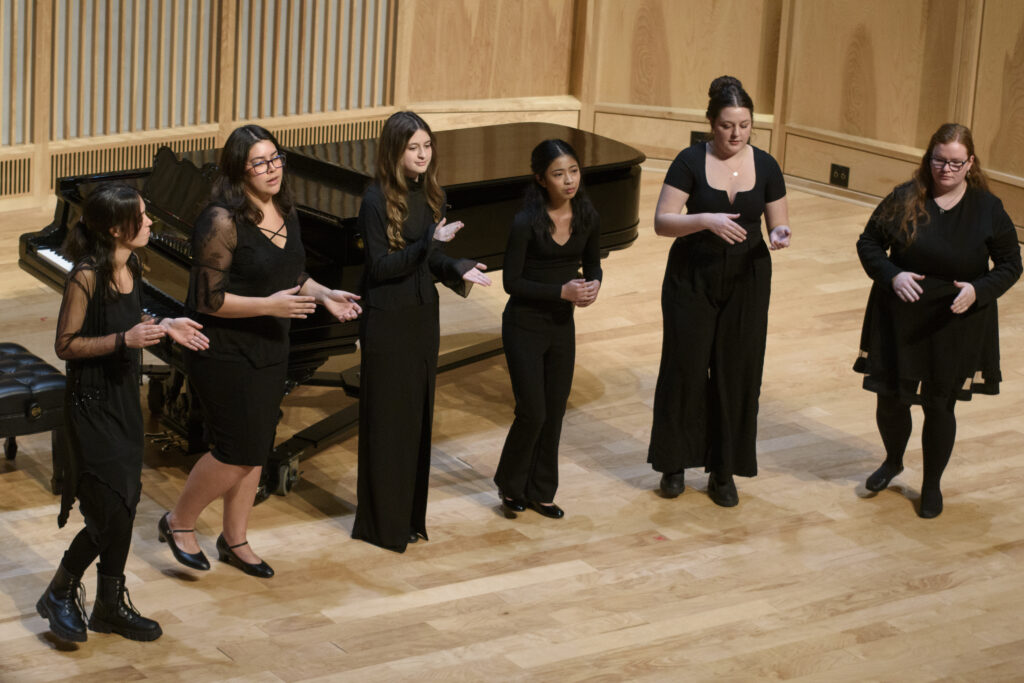 Starting off the recital, six individuals — Mikha Espiritu, Crystal Wagner, Hannah Palmer, Taylor Schroeder, Devin Gates and Lauren Garza — came onto the stage dressed in all black performing an a capella version of the song, "Bring Me Lil Water, Silvy." The song was popularized by Huddie Ledbetter — also known as Leadbelly — and arranged by Moira Smiley. The six performers' harmony and matching rhythm as they played with their own hands, feet and vocals was impressive.
Next, Ava Nobert and Madi Allen came on stage as a duet, wearing colorful dresses to sing "What Kind of Girl Is She?" from the "Title of Show" musical, composed by Jeff Bowen and Hunter Bell. The entire performance was hilarious and the duet worked well together, keeping the audience engaged.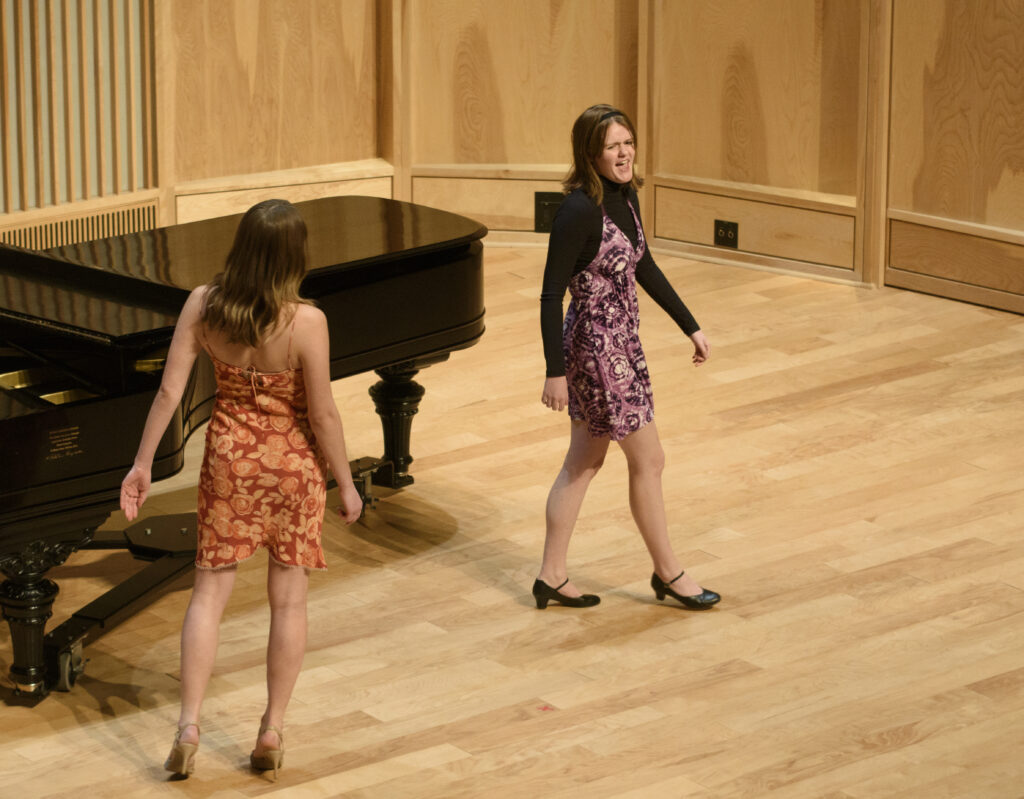 The next duet, featuring Magen Gauthier and Juliana Carmona performing "Tornami a dir che m'ami" by Gaetano Donizetti from the opera "Don Pasquale." Gauthier wore a forest green dress and Carmona wore a bright red dress. The two had wonderful vocals that balanced each other out — Gauthier's singing with a higher-pitched soprano voice and Carmona with the lower-pitched tenor voice. It was immensely impressive.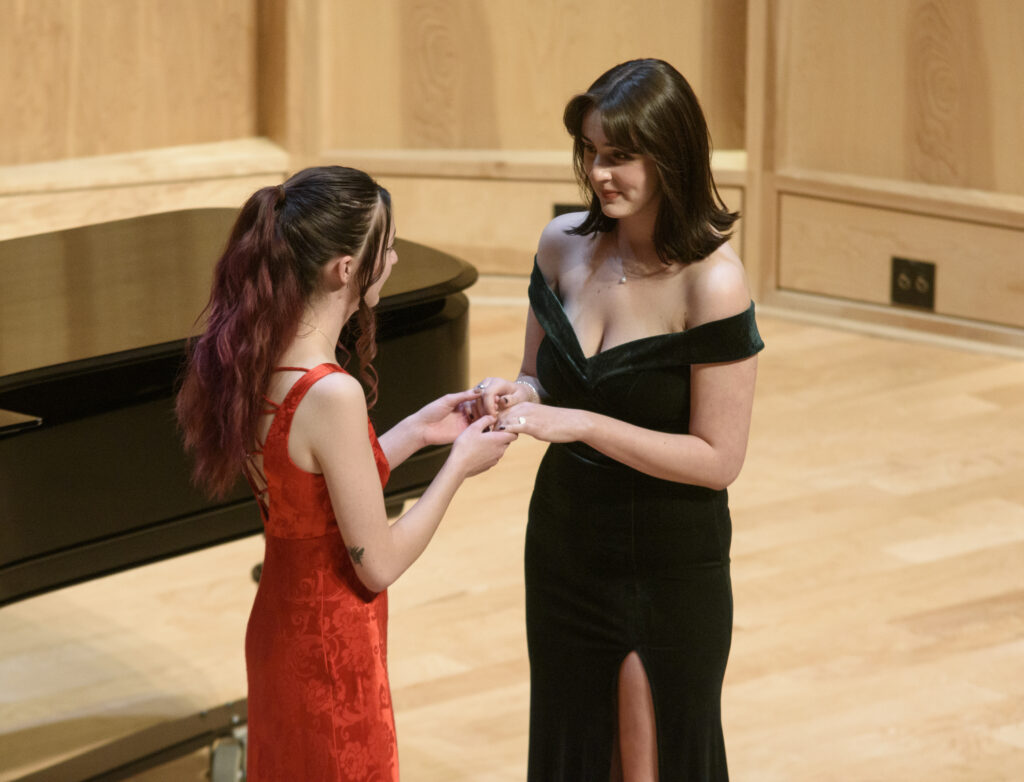 Jake Johnson and Madi Allen performed next as a duo singing "I got you babe" by Sonny Bono. The whole performance was adorable to watch. It got a bit pitchy whenever the performers strayed away from the microphones, but Johnson and Allen made for an excellent combination with their voices. Both performed extremely well throughout their short song.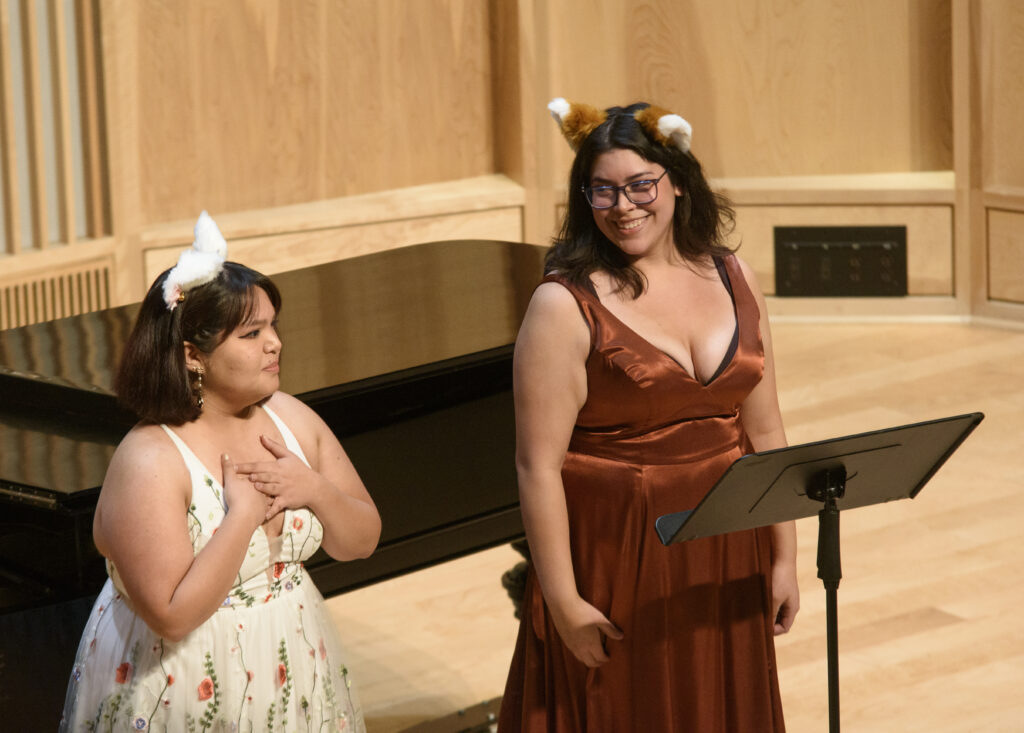 Amber Hurtado and Lauren Garza were up next with their song "Duetto buffo di due gatti" by Gioachino Rossini, also known as the "Cat Duet." This one may have been one of the best of the night. The song contained two sopranos and it was very comedic to watch. The two performed the entire song, the only actual lyric being "Meow." And yet, it somehow ended up being a magnificent performance with a lot of sassy soprano sparkle added to the mix.
"Duo des fleurs from Lakmé" by Léo Delibes, also known as the "Flower Duet", was performed by Danielle Brown and Adalynn Wells. The soprano Wells started the song off, soon followed by the mezzo-soprano Brown. When Brown started singing, it definitely caught the audience off-guard by how beautiful her deep vocals were. Together, Wells and Brown had wonderful harmony that made for a captivating duet.
"We make a beautiful pair", from the musical "Shenandoah" by Gary Geld, was performed by Jenna Sterret and Adalynn Wells. Watching Wells switch from a more "opera" soprano voice to a softer tone, was quite magnificent, showing off the range her vocals could actually take. Sterret and Wells had great harmony with one another too and put on a great performance leading up to this musical song. It was a cute performance that fit well with the theme.
After this song, Alyssa Granger and Alyssa Von Eberstein sang "Sisters" composed by Irving Berlin for the film "White Christmas." This "Alyssa duet" was hilarious and a great recreation of the movie's performance. They dressed similar, but not the same, mimicking the women in the movie and acted wonderfully like sisters, being minorly passive aggressive, but not actually hateful. It was very comedic and their voices matched one another wonderfully throughout the song.
JC Palmaira, Danielle Brown and David White finished the show off with their performance of "Soave sia il vento" from the opera "Così fan tutte" by Wolfgang Amadeus Mozart. The soprano, mezzo and bass tones worked magically with one another as they guided each other through the song, performing their hearts out and finishing the show off with a graceful harmony.
After all nine of the beautiful performances, Professor May and Professor Parker took the stage to thank their audience and singers and the evening was over within a quick hour.
Jaedyn Young can be reached at jaedynyoung@sagebrush.unr.edu or on Twitter @NevadaSagebrush.