Originally posted in The Nevada Sagebrush's September 2023 digital issue.
Hillary Schieve, the mayor of Reno, visited the University of Nevada, Reno campus for a moderated discussion on Sept. 21. The mayor talked to students about her work in mental health, public safety, affordable housing, LGBTQ+ rights, Truckee River improvements and greater student involvement in city conversations.
The Associated Students of University of Nevada Department of Government Affairs hosted Schieve's talk as a part of their Wolf Pack Talks series to increase student political activity by bringing student representatives in the political world to campus.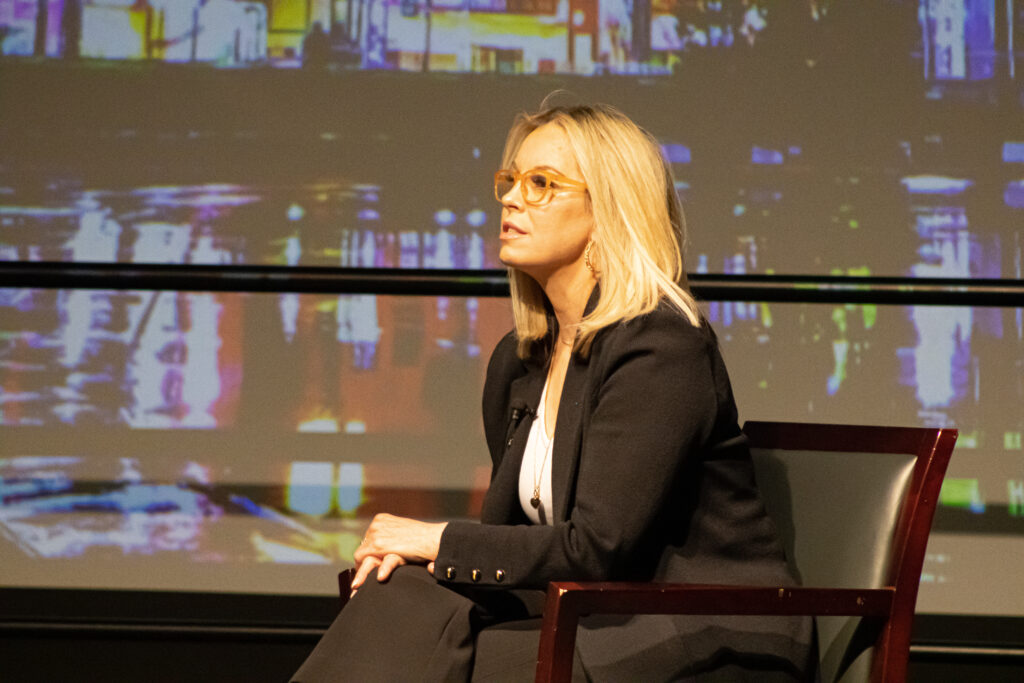 Schieve explained how important it was to visit the university and have university students in the conversation. In an anecdote about the beginning of her time as mayor, Schieve explained that Madeline Burak, the current legislative director for the office of Joe Lombardo, was a student at the university when chosen as Schieve's first chief of staff.
"I really wanted to send a message to the university and to all of you future mayors out there," Schieve said. "It's important that, I think locally, we get engaged with our student government and show them that there's nothing special about me, that you can do it. And so I literally plucked her right out of here and made her my chief of staff."
Throughout the conversation, Schieve said she saw "future mayors" among all the students in the crowd, excited to see more become more involved in the political world.
"I think it's really, really critical to have your voices at the table," said Schieve. "And now more than ever, you guys are our future. Like I said, my future mayors, hopefully future presidents. And so I'm excited to work on that next year, because I think you guys are playing a bigger role than ever before." Schieve said.
Future student politicians
When asked about what her path in politics had been like, Schieve explained how she became an "accidental mayor." Schieve ran with little to no political background because she didn't feel any of the candidates resonated with her during their campaigns, and she wanted to bring change to the city.
Even when she was part of the process of building up the Midtown district, she received little help from the city council at the time, which inspired her to become a bigger part of the city's politics.
Now, she says she often feels the invasion of imposter syndrome questioning whether she can really do what she does; she speak of often being criticized in the public eye, with people telling her what to do. She says "I finally got very comfortable inside my skin."
Affordable housing
Liesel Kemmelmeier, assistant director of ASUN's department of government affairs and a moderator in the discussion, emphasized that house security and affordable housing were at the top of the list of financial priorities for students. Kemmelmeier asked what approach the city council was taking on this issue to combat the lack of affordable housing for students and others.
Schieve's initial response criticized the cost of housing, particularly for students.
"It's really outrageous because you're trying to go to school, get an education, and I think many of you are also working." Schieve said.
When talking about ways to bring in more housing, Schieve was disappointed that corporations with a large presence in the area such as Tesla were not more involved.
"When Tesla came to town, I was not elected at the time. That was just right before I got elected, and I think there should have been a really big conversation on the subsidies they received and that they were required to bring in housing," Schieve said. "I think we missed the mark on having that conversation. I mean, it just seemed like a no-brainer, but it wasn't."
Some of the steps Schieve has taken included initiatives like the Sage Street Project, which constructed over 14,000 units of housing in the last six years.
National level
Dawson Deal, director of government affairs for ASUN and a moderator for the discussion, highlighted Schieve's work in Washington D.C. in recent years. Deal was interested in what Schieve's work looked like in Washington and how it related to her work locally.
Schieve underscored her focus on mental health. She talked with several other mayors and worked with senators like Catherine Cortez Masto to shine light on this issue locally and nationally. One of Schieve's goals is to gain bipartisan support on a mental health bill she had been working on with both Democratic and Republican leaders.
Schieve also noted the issue of homelessness in Washington D.C., and she said mayors tend to have a better way of connecting with communities than national leaders. Schieve hopes that the way mayors connect with their communities can influence policy on a national level and Washington will change the way they handle houselessness. Schieve described the situation as "out of sight, out of mind."
"What I mean by that is when you walk away, there's all these tents in a park. I'm thinking this is just a few blocks away from the White House," Schieve said. "How can this be? Do you not see that this is so sad and we've got to do something?"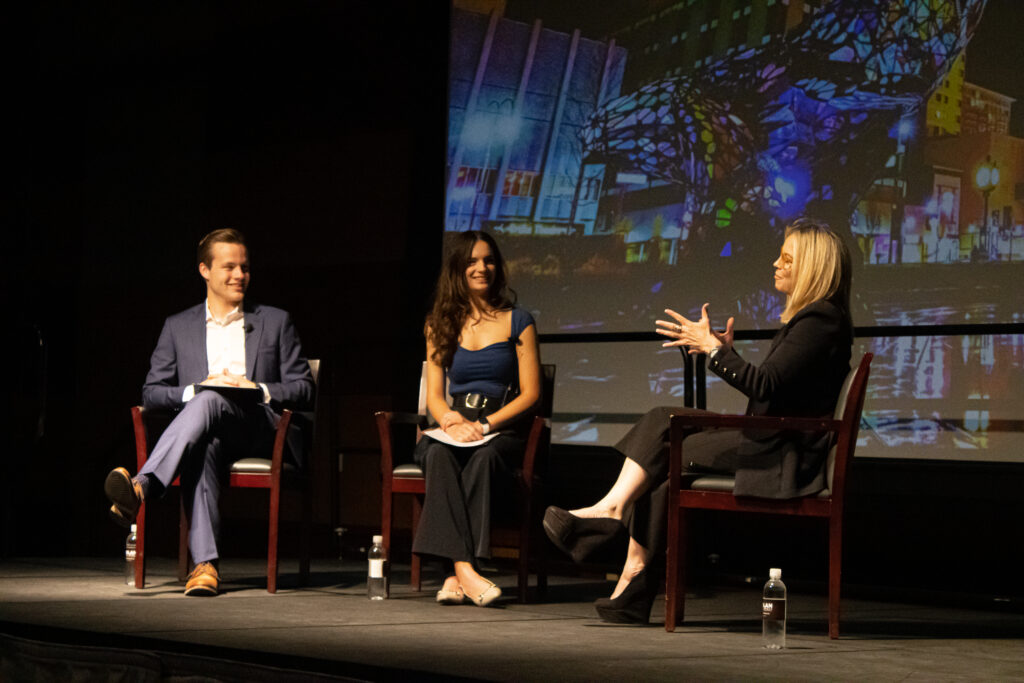 Student initiative going forward
The reason Schieve started a student political initiative is because she wants students to go to school here and stay after graduation as a member of the community.
"Great cities have great universities," Schieve said. "So we started the school initiative … And we're expanding on that … I can't really tell you, but Wednesday, we're going to make a massive announcement with President Sandoval … it will be the largest investment in the city right now in history."
Although the parameters of the announcement are unknown to the public, she explained it would be discussed on Sept. 27.
Nick Stewart and Jaedyn Young can be reached at jaedynyoung@sagebrush.unr.edu or on Twitter @NevadaSagebrush.
Correction as of Sept. 29, 11:10 a.m.: Liesel Kemmelmeier's name corrected in caption.