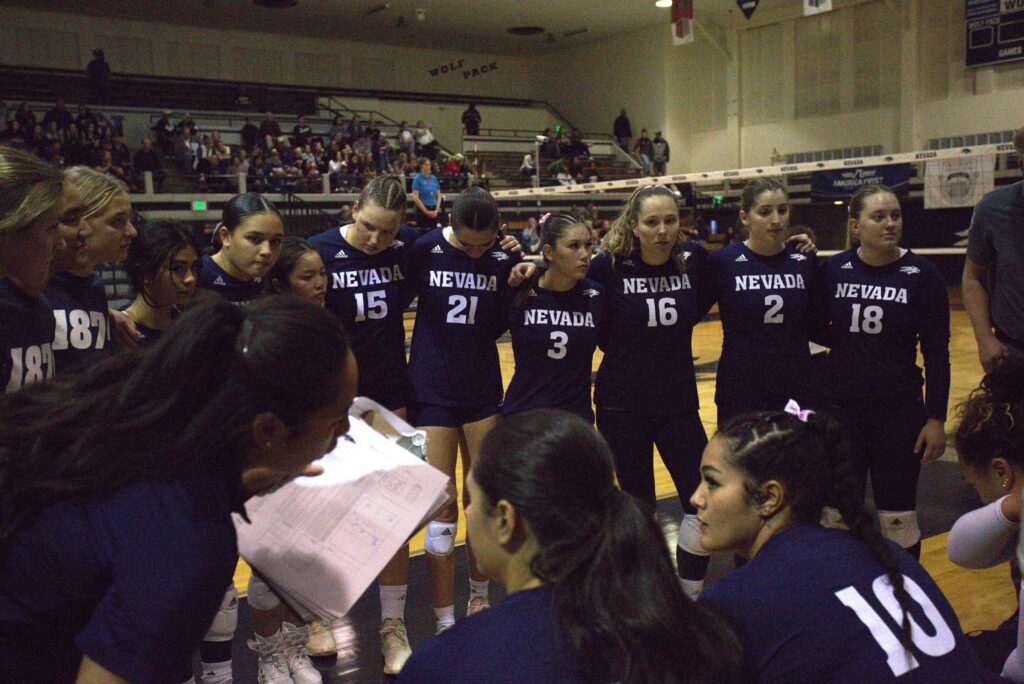 The Nevada volleyball team lost to the Fresno State Bulldogs 2-3 on Sept. 26, resulting in their third consecutive loss in conference play thus far. The Tuesday night matchup went to five full sets of play, and was named the Mountain West Block Party game of the week, bringing more attention to the game. 
Going into set one, the Pack took a tremendous start over the Bulldogs, including a five point lead at 17-13 when Fresno State took their first timeout.
The Pack defense was strong against the Bulldogs, with multiple double blocks by Nicanora Clarke, Nevada outside hitter, and Jordan Schwartz, Nevada middle blocker, and digs by Hikialani Kaohelaulii, Nevada libero.
As Nevada was still in a lead at 21-18, Lee Nelson, head coach, called a timeout before the last couple points of the set. This turned more momentum towards the Pack, who finished out set one 25-21 against the Bulldogs.
In set two, both teams stayed within three points of each other. Nevada's hustle for out-of-system balls allowed them to complete many kills against Fresno State keeping the score close.
The Pack was in the lead until a tie at 13-13, where they would not see another lead for the rest of the set. The remainder consisted of multiple, well played rallies, but not high execution. Nevada ended up dropping set two 22-25.
Nevada started off set three with another lead, up until a tie at 16-16 where Fresno State would gain the lead and keep it until the end. Although the Wolf Pack stayed consistent with their kills offensively, the defense was not strong enough to maintain any lead. Nevada dropped set three 21-25.
Set four could have been the final set for the game. But, thanks to the Wolf Pack's hustle throughout the whole set, the Bulldogs never took the lead over them. Nevada was effective offensively and defensively, which made for their most successful set of the matchup. Players like Gabby McLaughlin, Nevada outside hitter, helped tremendously with both offensive kills and defensive digs throughout the set.
Nevada ended set four on a five point lead against Fresno State 25-20.
Both teams went back and forth between leading in set five. Nevada found success with its blocks at the net and multiple service aces. The score was tied at 7-7 when Fresno State began to take over, only allowing Nevada to score three more times while closing out the final set. Nevada dropped set five 10-15.
Nevada saw 51 kills, 18 blocks, seven aces and an overall hitting percentage of .076 against Fresno State. The leaders of the Pack included:
McLaughlin with 17 kills, two aces, and 14 digs
Clarke and Schwartz with 7 blocks each
Kaohelaulii with 19 digs
Tehya Maeva, setter, with 21 assists
Jaclyn Sanchez, setter, with 20 assists
Nevada now has a record of 4-10 overall and 0-3 in conference. Of the Wolf Pack's 14 games this season, their game against the Bulldogs was their seventh game going to five sets. They will have a quick turn around this week as they play away at San Jose State Sept. 28 for their fourth conference game.

Lexi Trent can be reached via email at derekraridon@nevada.unr.edu or via twitter @LexiTrentUNRJ