Editor's Note: The Nevada Sagebrush is not a global news source and simply reports on campus happenings. For more information about the conflict in Israel and Gaza, please refer to other, more global media organizations.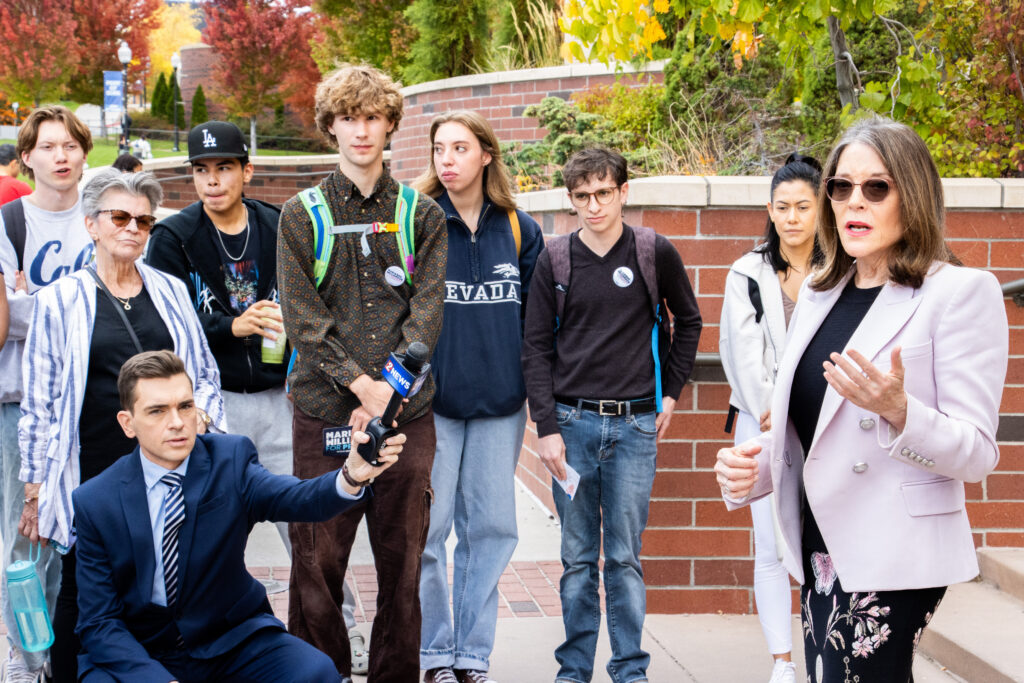 Marianne Williamson, a democratic presidential candidate, set up shop on the steps in front of the University of Nevada, Reno's Mathewson-IGT Knowledge Center on Oct. 9, to speak to students about her campaign.
Roughly 20 to 30 students gathered around Williamson at noon to hear what the candidate had to say, asking questions relating to college tuition rates, LGBTQ+, the LatinX community and the Israel-Hamas war.
"Israel has just experienced what would be, given the size of their country versus the size of ours, what would be numerous nine-elevens. It is absolutely catastrophic," Williamson said. "And let's remember this was not the Palestinian people. This was Hamas … I have been very vocal about the systemic injustices towards the Palestinian people … but right now, I think that we need to really hold this in our hearts. It is going to be very terrible, for both Israelis and Palestinians."
Williamson answered many student questions, some even repeated, during the hour-long talk.
In April, the national Democratic Party said it will "support Biden's reelection" and that the party "has no plans to sponsor primary debates," according to The Washington Post.
"I'm sure you've been told, we already have our candidate and I would remind you, excuse you, we have a U.S. Constitution," Williamson said. "The Democratic Party should be supporting, not thwarting the democratic process … The DNC has decided that Joe Biden is their candidate … This is very undemocratic."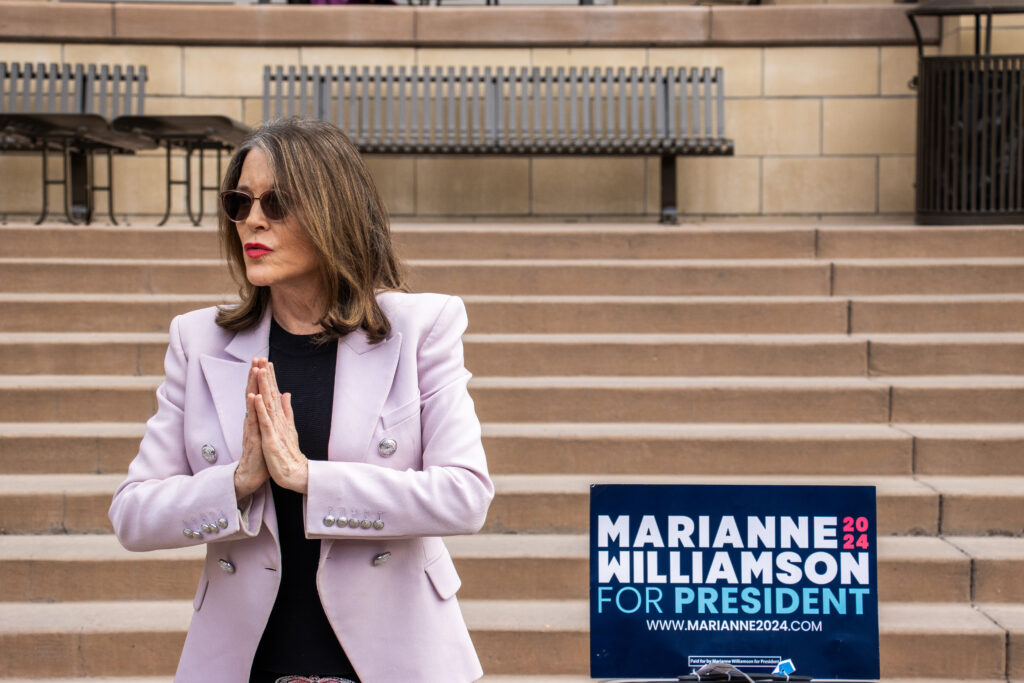 Williamson came to the university looking for Gen Z students to support her if they liked her campaign, encouraging students to "make noise" about funding for a Democratic party debate.
"It's your future we're talking about here," Williamson said when asked about the importance of student votes. "Many of these things are life-death issues for you … I don't get the feeling that I have to remind young people that it's important for them to vote … I think it's very old-fashioned to talk about how young people don't vote. I think they do now … I just hope [they'll] get active in the primary.
Some of Williamson's main campaign points included creating an "economic U-turn" for the country, implementing universal health care, creating free state college and technical schools, declaring the country in a state of climate emergency, canceling student loan debt, ending the war on drugs and more.
"These things just have people beaten down, depressed, worried. We don't even have a vibrant middle class anymore," Williamson said, regarding questions about the issues she's campaigning for. "And like I said, none of that is going to change unless we the people step in and change it."
Williamson will be traveling around the country to New Hampshire, Washington D.C., Virginia, California, the border at Eagle Pass, Michigan and elsewhere over the next few weeks. She is also planning on returning to Nevada next month.
"[Our campaign] has till Feb. 6 to make this happen," Williamson said, referring to the date the primary presidential elections will take place. 
Other notable Democratic and Republican candidates that have announced their campaigns for their U.S. presidential campaign can be found here.
Early voting for the primary begins on Jan. 27 through Feb. 2, 2024.
To see The Nevada Sagebrush's previous coverage on the 2022 elections, click here.
Jaedyn Young can be reached at jaedynyoung@sagebrush.unr.edu or on Twitter @jaedyn_young3.