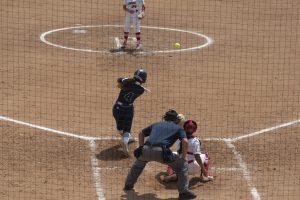 Nevada softball won their first series of conference play against New Mexico on April 22 to 24 at home.
In game one, the Lobos were the first to get runs. Nevada's Chelie Senini had a run batter in triple due to infield errors, and one run was scored. Gutierrez had an RBI fly out for one more run. Jessica Sellers, Kallahan Hunter and Aaliyah Jenkins all hit single RBIs. Danielle Lew had a double RBI in the fifth inning to get Nevada to their seventh run.
The Lobos ended up scoring one more run, but it wasn't enough to win. Nevada took the first game 7-3.
The second game was a close one. Both teams scored one run in the first inning, and the Lobos scored three in the third inning to take the lead. Nevada scored five runs for a strong comeback in the fourth inning. Charlie McLendon had a three-run RBI double to right field. Gutierrez hit a home run to left field and brought two runners home to make the score 6-4.
New Mexico scored one run in the sixth inning with bases loaded, and the batter walked. Nevada finished the inning with no more runs scored and won 6-5.
The Lobos won game three 6-3. Nevada had the lead after the first two innings at 3-1. Sam Oliver had an RBI double that brought two runners in. Senini scored on a wild pitch for Nevada's third run. New Mexico gained one three runs in the third and two in the fourth.
This game had the second largest crowd of all time at Hixson Park, with 742 attendees, and the largest since 2014 for softball.
Nevada won the series 2-1 against the Lobos. Nevada stands 15-31 overall and 5-13 in conference. Colorado State is their next opponent away on April 29 to May 1.
Kelsey Middleton can be reached at kelseymiddleton@sagebrush.unr.edu or on Twitter @sportsbykels