Many people today strongly identify with their favorite musical artists. Oftentimes, a community of sorts forms around a musician's presence — especially when that musician visits hard-hitting topics in their music: like with Hobo Johnson.
Johnson gained fame through years of work and a few viral TikTok songs. His music goes through rejection, homelessness, his parents' divorce and most recently his father's death in 2022. Many people see parts of their own struggles reflected in his songs.
There is one difference between most popular sad songs and Hobo Johnson's work, however. His is spoken word music.
Classified as a part of the emo-rap genre, Hobo Johnson's performances sound closer to a poetry slam than a XXXTentacion concert, another artist of the genre.
Concert-goers at Johnson's Feb. 4 show in San Francisco weigh in on why his music and others within the genre are so important to them and the culture.
Bundled up to shield from the San Francisco winter rain and wind at the very back of the ticket line, Robby, a concert-goer, is elated to talk about the sound of Hobo Johnson's music.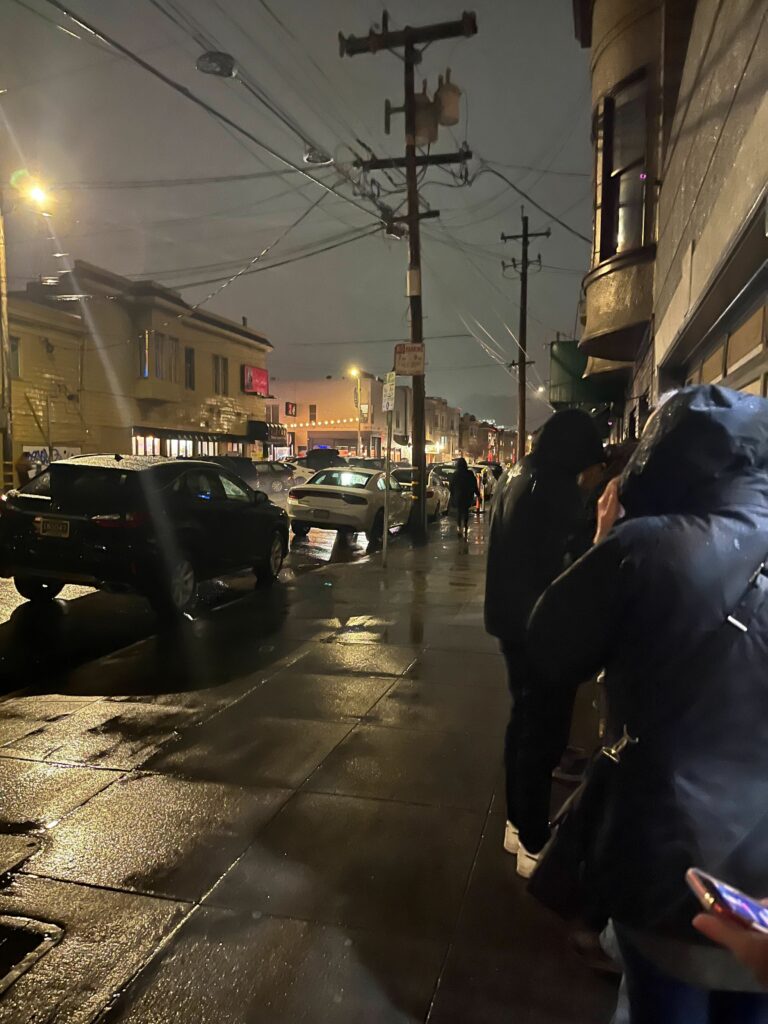 "It's rhythmic," Robby says. "There's a lot of thought in the words." He shares a few words with his friend before concluding; "… It's like rap in a different direction."
According to Christina, another concert-goer closer to the front of the line, the music of Hobo Johnson has a "heartbreak-like style". Including the hard topics such as depression and social struggles in his songs resonates with many people.
"There's a difference between resonating with something and being a part of something," Christina says. She feels that at a point, it is just music to listen to. Not everything in it applies to the real world.
The artists who make the music, however, have a different approach to the songs that everyone at the concert came to hear. In a backstage interview with two of the opening bands for Hobo Johnson in San Francisco, the Philharmonik, a Cleveland R&B artist, and bay-area band The Happys reveal more behind the musical process.
"It's a big-ass therapy session," says the Philharmonik. "I get to be my unadulterated, unfiltered, feral self."
Alé Sanchez, lead guitarist of The Happys, eagerly shares the spirit.
"I f—ing love that," Sanchez adds.
Elijah Smetzer, the band's drummer, sees an obvious source of appeal for their audience.
"That gives people the courage to let their animals out and join the party with you," Smetzer chimes in.
The room all claps in agreement. Artists; enjoying the fact that there is a room of people out behind the door who all find the same freedom that they do in their art.
But it isn't all happiness in music. There are hard times, there are rough times. All of which the musicians communicate to their audience. There are no filters, no performances.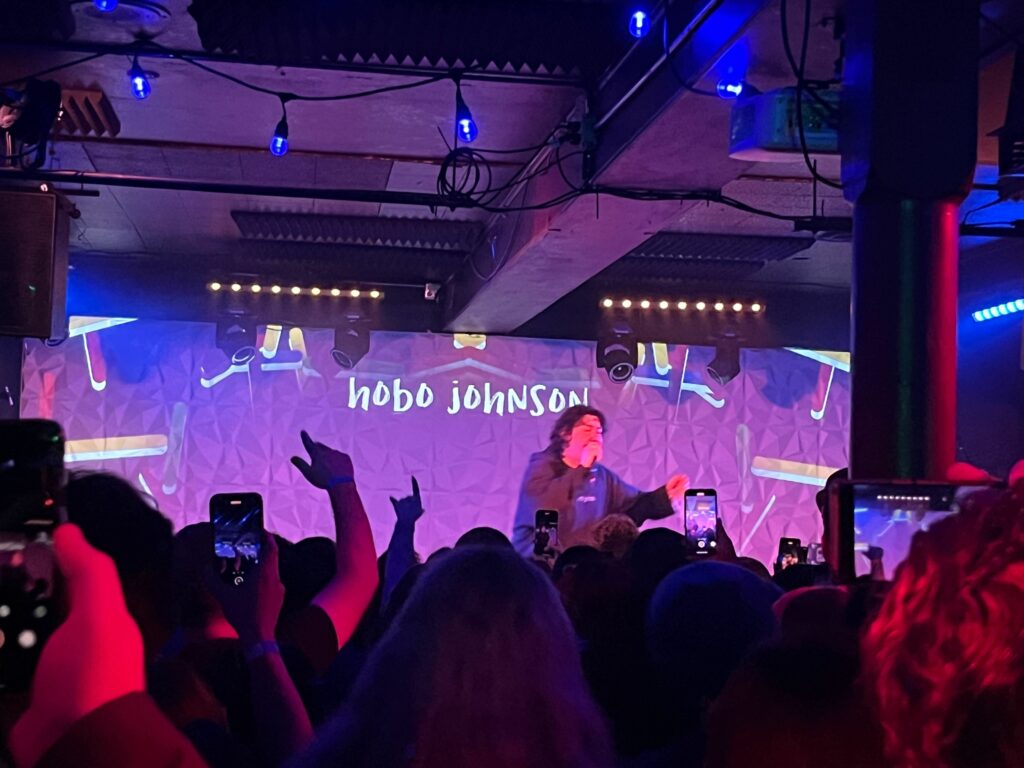 Sanchez describes the feeling of making music and being on stage as freeing. "You're not trying to block out things because of the people around you … You're being yourself."
Nick Petty, the lead singer of The Happys, sees the virtue in visiting dark places.
"That's the real art," Petty adds in a sentimental tone. "If you're actually exposing sides of yourself that are uncomfortable … That's music."
Opening for Sublime with Rome the following week, The Happys have come a long way from their start ten years ago. Petty, being the original band member, is the main creative behind the lyrics of the band's songs.
Ultimately, the artists want their music to be real.
"There's songs about addiction. There's songs about love and funny stuff," says Petty. It is all real, and meant to be relatable.
However, none of the artists expect to find a "cookie cutter" fan, someone who completely identifies with the music.
"He's had a tough past," says bass player Brett Brazil, looking over to Petty who sits back in a tropical shirt and trapper hat. "It all works its way into the music and then we go from there on our own specialties [instruments]."
Petty leans in towards the recorder immersed in what he is going to say.
"Music to me has always been a religion," Petty says. "Like something that literally, like it literally helps your entire life. And then hopefully the people around you are listening to it."