Students piled into the Joe Crowley Student Union on March 29 to see a night of wig reveals and death drops on a portable stage at the annual University of Nevada, Reno drag competition.
The event, in its second year of rebound after the pandemic, puts student and local drag artists in the spotlight alongside a famous host. This year, the witty and wildly fabulous Mo Heart, from Ru Paul's Drag Race season 10 and All Stars season four, made her entrance to a rousing cover of Jill Scott's "Hate on Me" in a stunning costume adorned with flowers and an even more stunning wig.
As part of her opening slate, she asked the crowd how many had never been to a drag show before, and got a fairly substantial sea of hands. Thanks to free student admission, anyone who wanted to show up for the sparkly and campy art form could do so.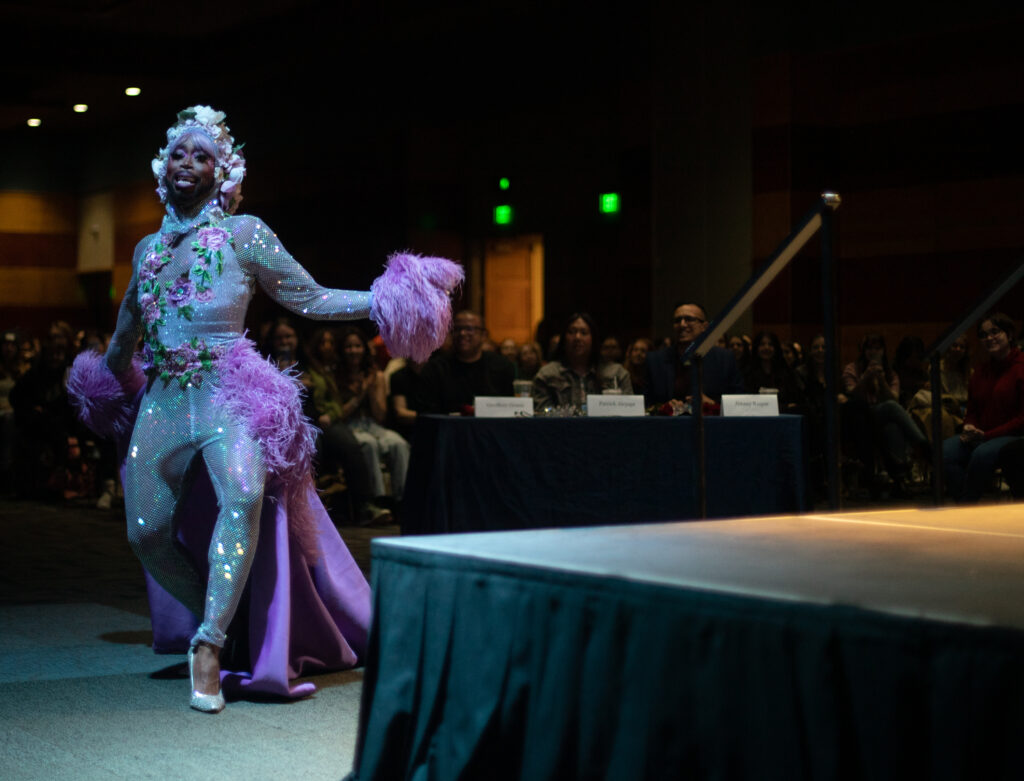 Students were encouraged to bring dollar bills to tip the drag queens as a source of payment and show of gratitude to the performers. And tip they did: green was the color of the night as dollar bills flooded the aisles. Students were lucky if their favorite performer hand-picked their money; if not, polo-shirted Joe Crowley Student Union employees worked hard to collect it all.
The support that night was visible: Mo Heart made no secret of drag's function as a place of support within the LGBTQIA+ community, and her affirmations of its importance got some of the night's loudest applause.
"Queer people have always provided a safe space for ourselves," she said in her opening slate as host.
It's a stark contrast to the attacks and bans on the art form that have weathered this past year. Just four weeks before the show, Tennessee Gov. Bill Lee signed into law a bill criminalizing drag performances in public spaces. Here in Reno, public comment at a County Commissioners meeting Feb. 28 took aim at Washoe County Libraries' Drag Queen Story Time, a diversity-angled program that looks to increase LGBTQ+ visibility and acceptance among the library's youngest patrons. 
In such a climate, "Hate on Me" might be more than just a gutsy needle drop. Drag may be a playful performance of gender and defiance to the binary, but it faces very real threats. These threats are, in part, why it's so crucial to support events like this in an official capacity.
On a lighter note, events like this also enable new student performers to take the stage and hone their craft — some of them for the very first time.
One such performer, Kitamine, flipped the script and turned masculinity into a performance of jeans and a button-up. Mo Heart kept them on stage after the fact for a short interview, in which they revealed both their nerves and newness to the art form.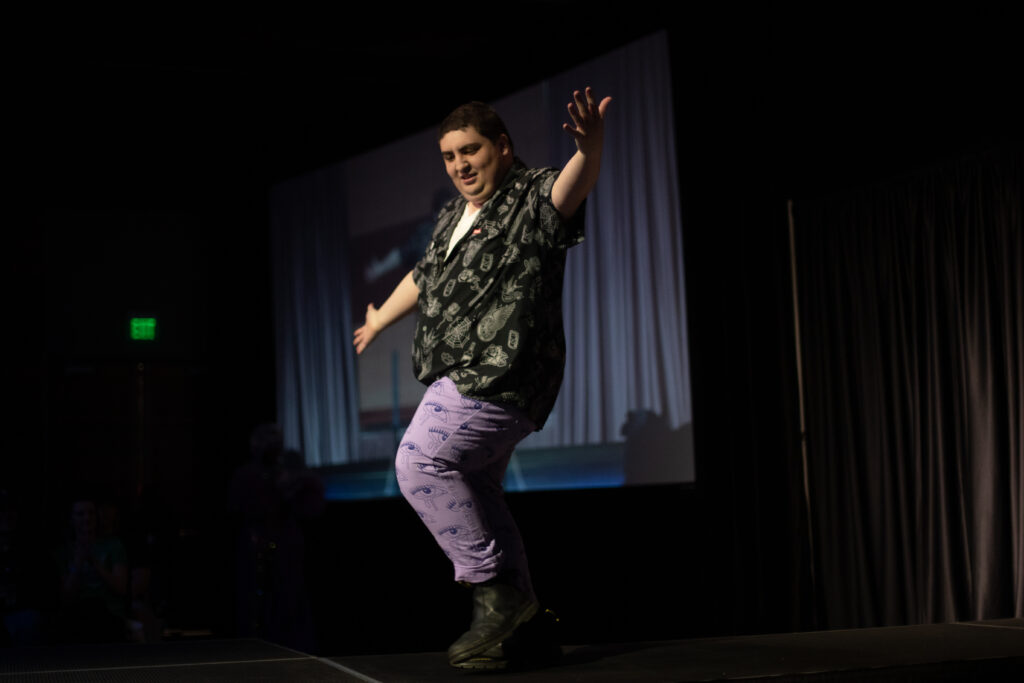 "I just wanted to do this for the first time," Kitamine said.
Another student performer, Scottlynd, succeeded them with a laid-back lip sync number both coy and clever to Victoria Monét's "Coastin." Her act proved a delightful answer to the form's bombastic musical expectations: you don't always have to pick a high-octane pop track and pair it with breathless physical feats to put on a good show.
Her approach proved award-winning as well. A panel of judges presided over the event, and granted crowns to both a student performer, as well as a winner in the local category. Scottlynd won the student competition.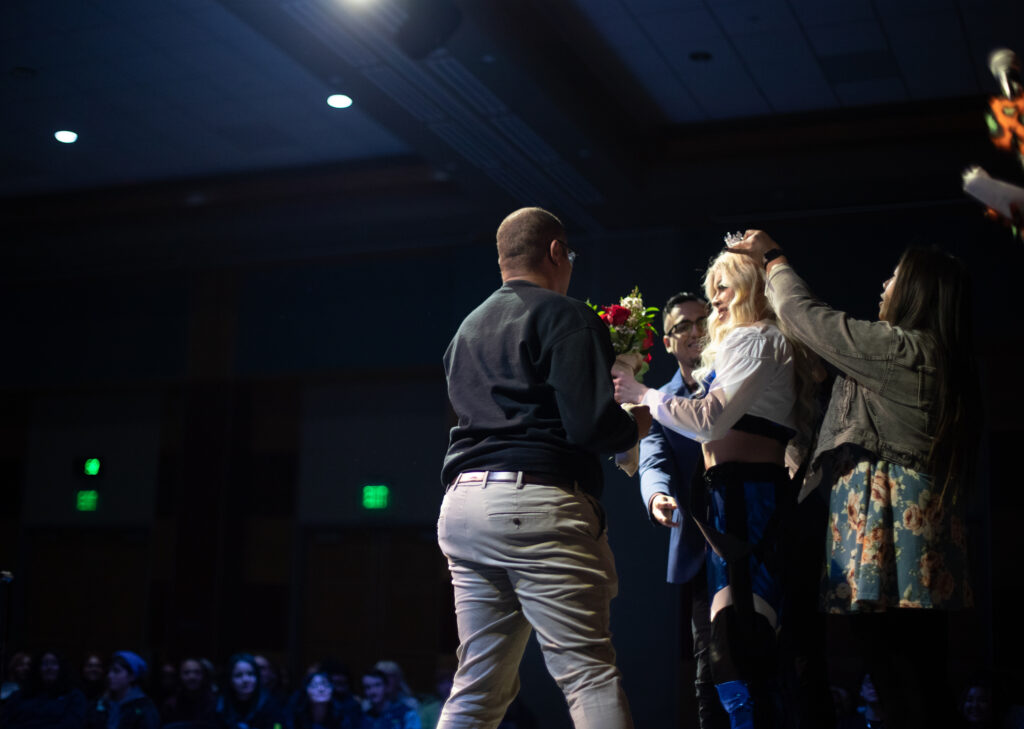 At the same time, physicality stuns for a reason. Zamantha Veloure, the first of the show's local drag queens, incorporated brightly colored fabric fans into an ambitious number anchored by cartwheels through the audience. The cartwheels were, of course, done in heels.
The Haus of Veloure was well represented throughout the event, as four family members worked the stage and audience throughout the night.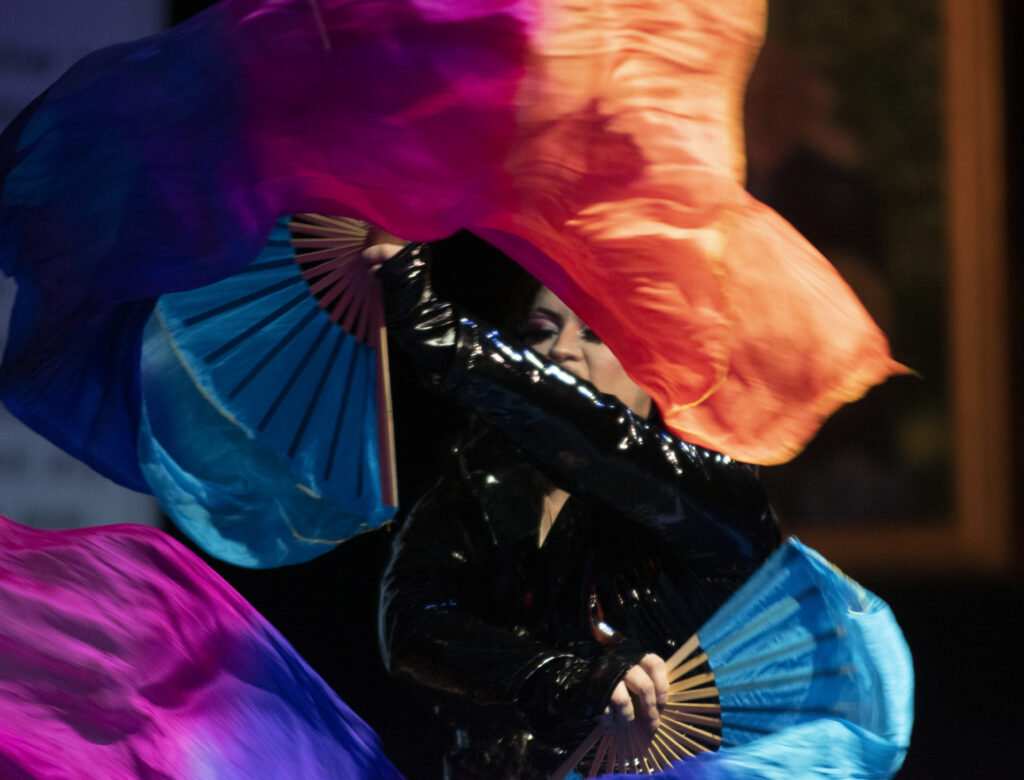 Speaking of shoes, the stylings of Cici Orchid were loud from the get-go. Bright pink, over-the-knee boots carried her through "Fergalicious" with pure bravado. In a crowd-pleasing move, Orchid was one of several to incorporate her tips into the performance — making it rain in a cheeky moment on stage.
Following Orchid, the indomitable Ari Meadows energized with a bouncy number full of somersaults, each more shocking and impressive than the last. Meadows, in a bright pink and black motor jacket, made a resourceful use of the space. She paused a few times in front of the near-stage fan for a windblown effect.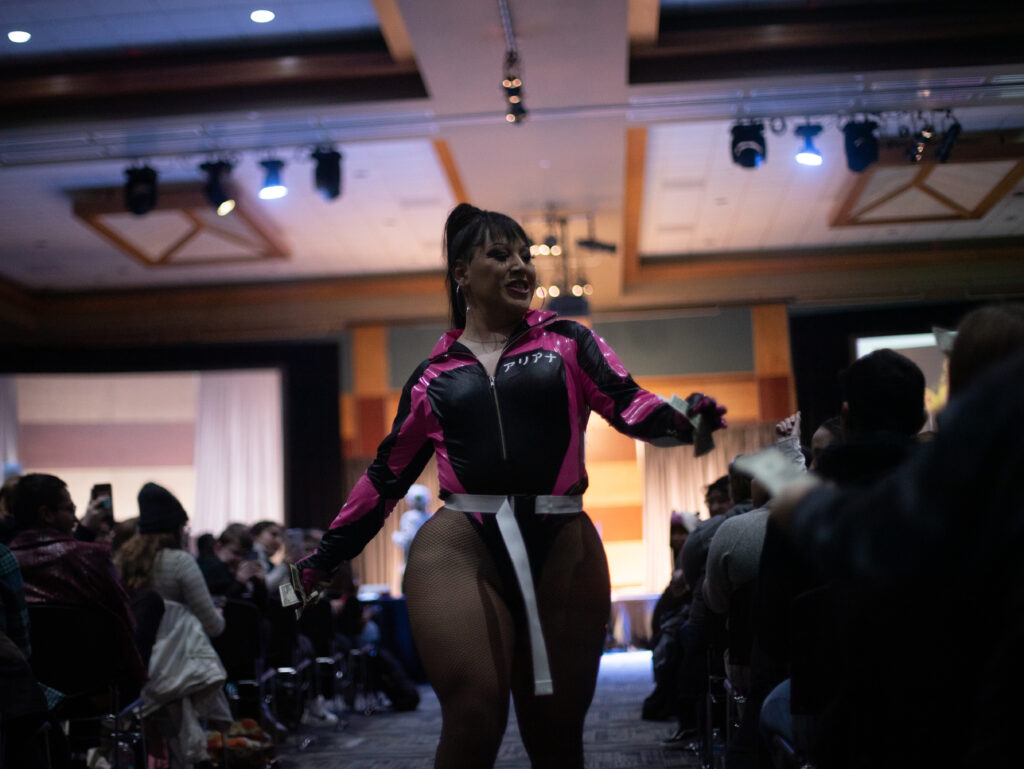 Deevina Veloure, meanwhile, utilized Beyoncé, so bass-boosted that the music's pulses could be felt in one's solar plexus.
Of Deevina's costume, Mo Heart put it succinctly in her introduction: "Do you know how bold you have to be as a drag queen to wear white?!"
Ever attentive to apparel, Deevina Veloure's act was full of perfectly-timed, dynamic costume changes. She was one of two in fierce competition for the local category crown. In the end, it came down to her and Abyne, who faced off in lip-sync to 1994's "Bidi Bidi Bom Bom" from classic Tejano singer Selena.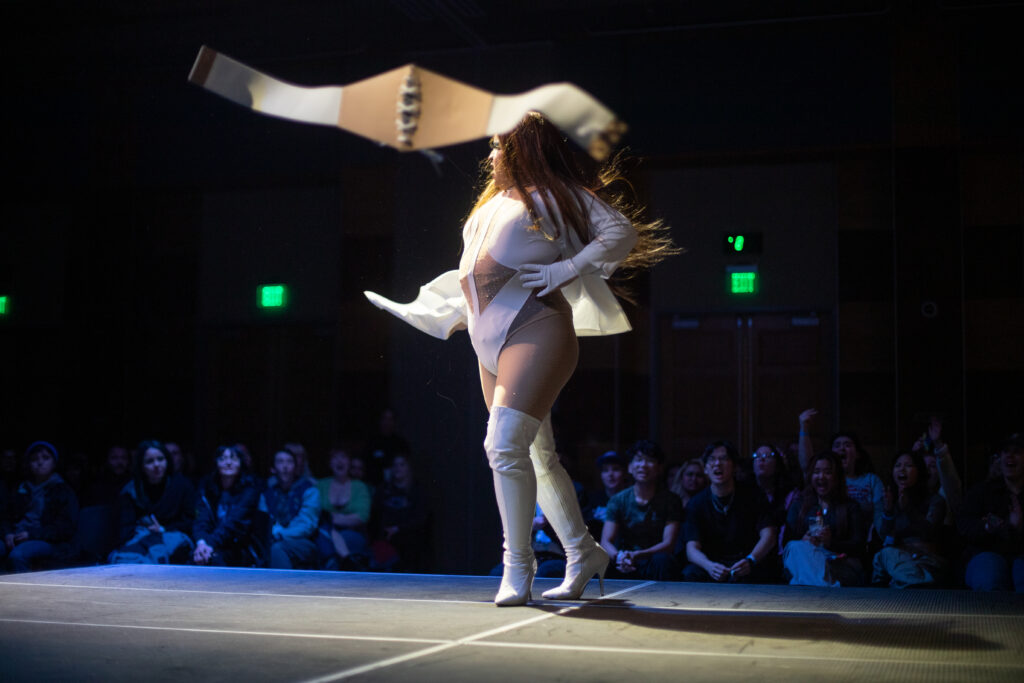 Abyne's act, immediately following Deevina Veloure's, ultimately won — an honor well-deserved. Her fluid, endlessly inventive dancing made an encore showing when she was crowned local winner, but it played a starring role in her spirited tribute to Shakira in vibrant red.
Her joy in the number was absolutely infectious once the chorus of "Whenever, Wherever" hit. Any viewer would be hard-pressed not to catch the giddiness as she skipped through the aisles.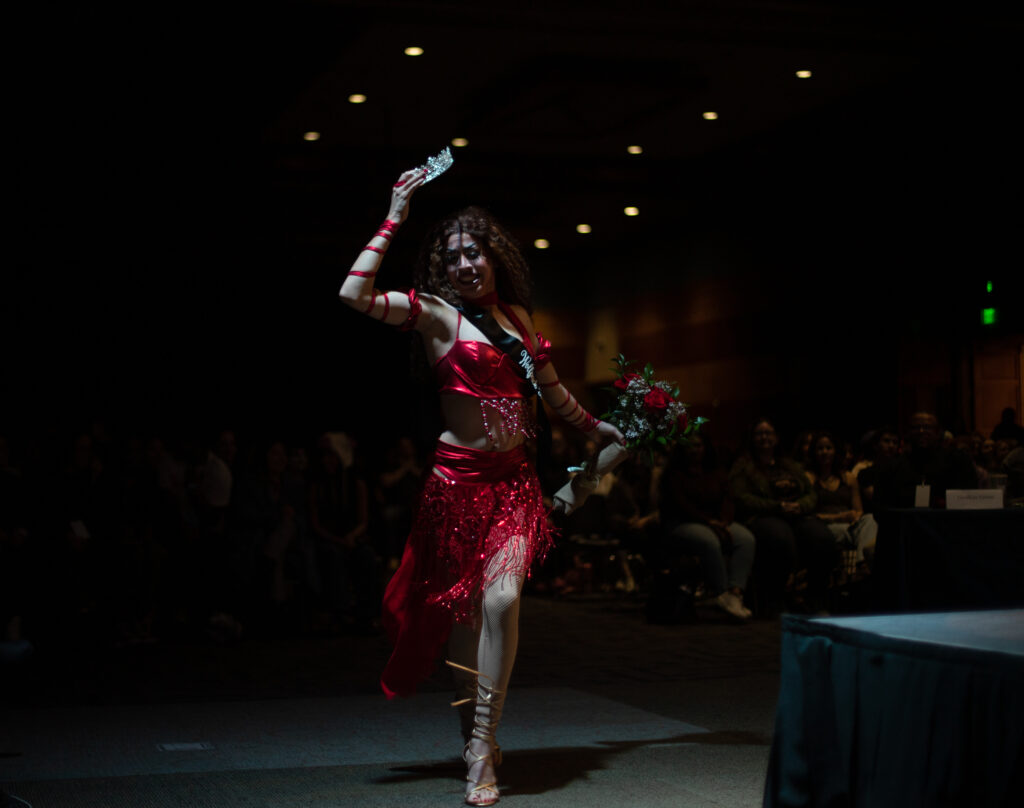 Donna Sux Does Moore took an actor's approach, with the power of suspense on her side. Her routine — and the one that answered hers, from Victoria Veloure — spent plenty of time away from the stage and in the audience, but it was well worth the effort it took to crane one's neck to catch her talent.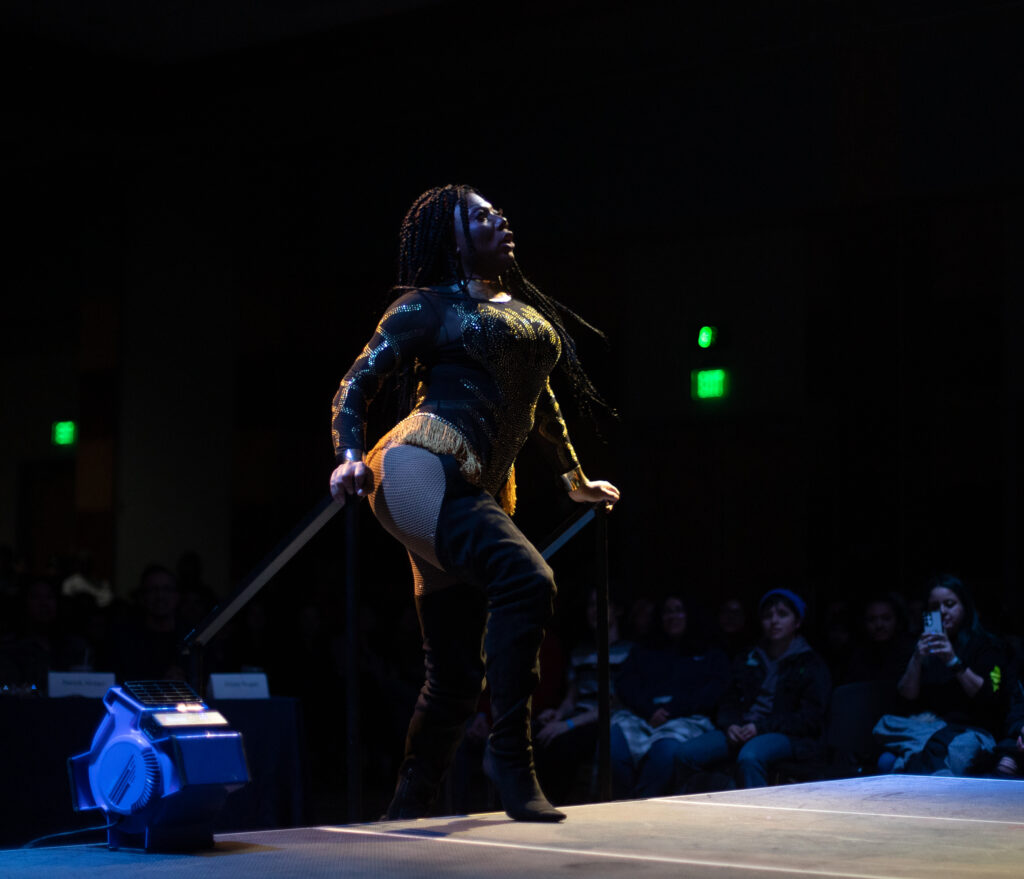 Victoria Veloure's piece was a high-energy, exuberant number with a heavy debt to Ariana Grande's 2015 single "Break Free". 
Finishing the lineup was Norvina Veloure — the only one to make her dramatic entrance from the side door. Her tireless number made a commendable commitment to the theme. With Charli XCX's "Vroom Vroom" at the helm, she even brought a racing flag and appropriate sound effects to the act.
Before the show came to a close, Mo Heart brought a coterie of volunteers on stage. Some were already in costume, but a few, in t-shirts and jeans, seemed like the last people you'd expect to make a bold showing on stage. The volunteers were to perform in their own impromptu LaLaPaRUza for the audience.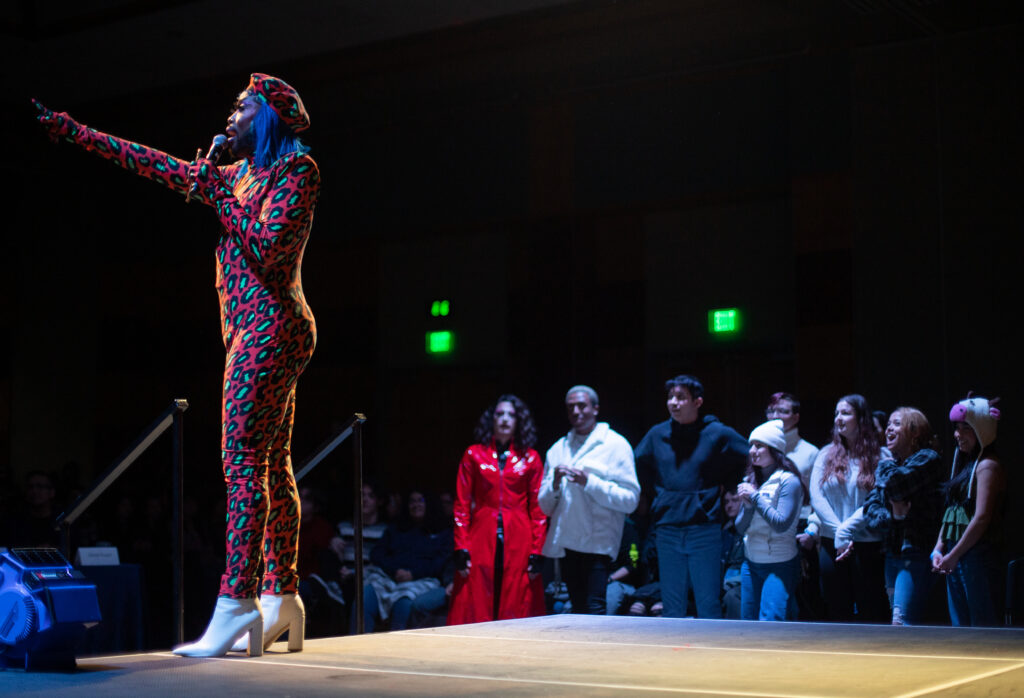 The spirit of the night, however, proved powerful, bringing out supernatural confidence in even the shiest-looking participants. In giving students the space to cheer for their own, Mo Heart landed the show with a conclusion as spontaneous as it was sincere.
Peregrine Hart can be reached via email at peregrineh@sagebrush.unr.edu or on Twitter @pintofperegrine.