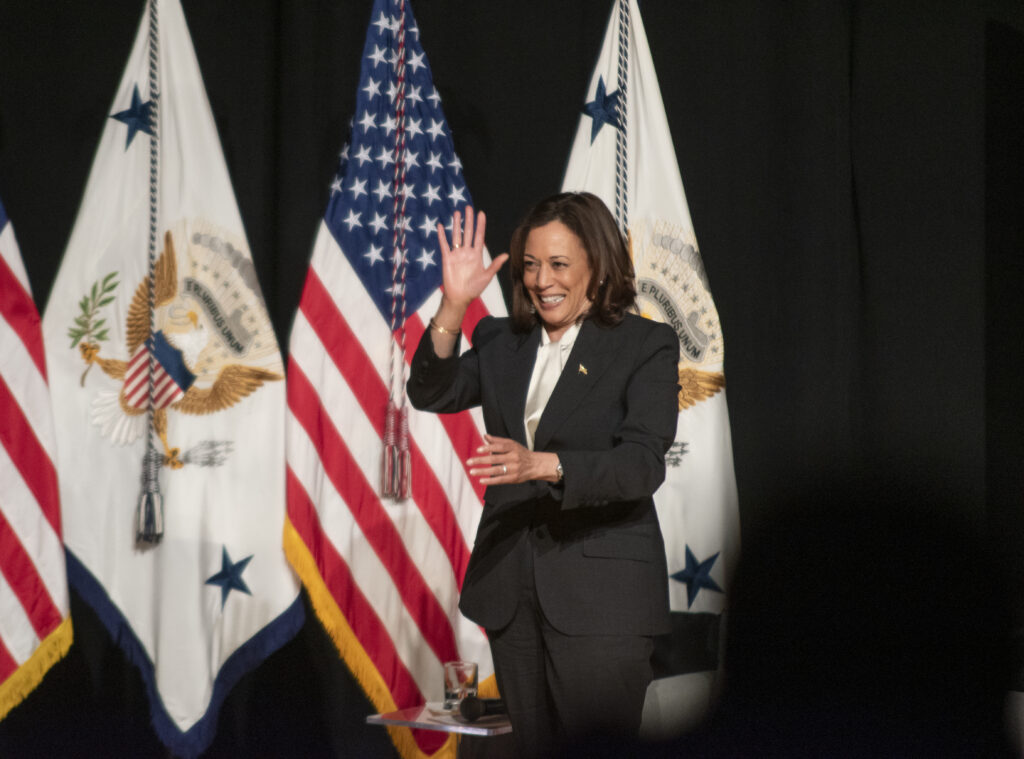 On an abnormally snowy mid-April morning, students of the University of Nevada, Reno and locals awaited the arrival of a special guest — Kamala Harris, vice president of the United States.
Harris visited the Nightingale Concert Hall on April 18 at noon to discuss reproductive rights with moderators Hillary Schieve, Reno mayor, and Rosario Dawson, actress.
Sandoval announced the visit via email on April 14 and included a link for community members to sign up for attendance. The event featured a group of speakers selected by the White House.
"I am beyond excited to announce that on Tuesday, April 18, the University of Nevada, Reno will welcome Kamala Harris, Vice President of the United States, to our campus," said Sandoval in the email. "This is an historic official White House visit for our institution."
A Wolf Pack Welcome
The event started with a short speech from Samantha Glover, a senior at the Davidson Academy and abortion advocate. Glover started her speech by thanking the Biden-Harris administration for allowing her to speak and fight for reproductive rights. She stated that young people have the most at stake in the national debate over bodily autonomy.
The host introduced Sandoval to the audience. Sandoval delivered a small introduction to those visiting the campus and a warm hello to students. He speculated this is the first White House visit to the university campus.
"It's not often that our campus is the site of an official White House visit," Sandoval said. "We think that, actually, it might be the first, official White House visit to our campus. So, you're all a part of history today."
Sandoval described the campus in a quick introduction and mentioned the 150-year anniversary of the university. Additionally, Sandoval noted that UNR is the flagship university in Nevada.
Wrapping up his portion, Sandoval encouraged everyone to give Harris a "Wolf Pack welcome."
Casey Wolf, counselor to the Secretary of Reproductive Rights, advocated for bodily autonomy and accessible healthcare on a national level. Nevada passed the Equal Rights Amendment in 2022 to ensure equal rights to all Nevadans "regardless of race, color, creed, sex, sexual orientation, gender identity or expression, age, disability, ancestry, or national origin."
Wolf believes citizens should not be required to rely on another state's policy to access reproductive healthcare.
"Abortion care is healthcare," Wolf said. "… You are entitled to that care — even in states with restrictive abortion laws."
Nasser Paydar, assistant secretary of education for post-secondary education, spoke next. He expressed excitement to be on a university campus as a former college chancellor. Paydar's statement emphasized the importance of accessible reproductive healthcare for students.
"Students need access to healthcare to thrive, and that includes access to reproductive care," Paydar said. "Poor access could close [the] doors to higher education."
Paydar emphasized again how student's success relies on their health and ability to receive accessible reproductive healthcare.
Payder ended his talk with "If we want to see students' success, we have to be committed to students' health."
Kamala Harris arrives, talks abortion policies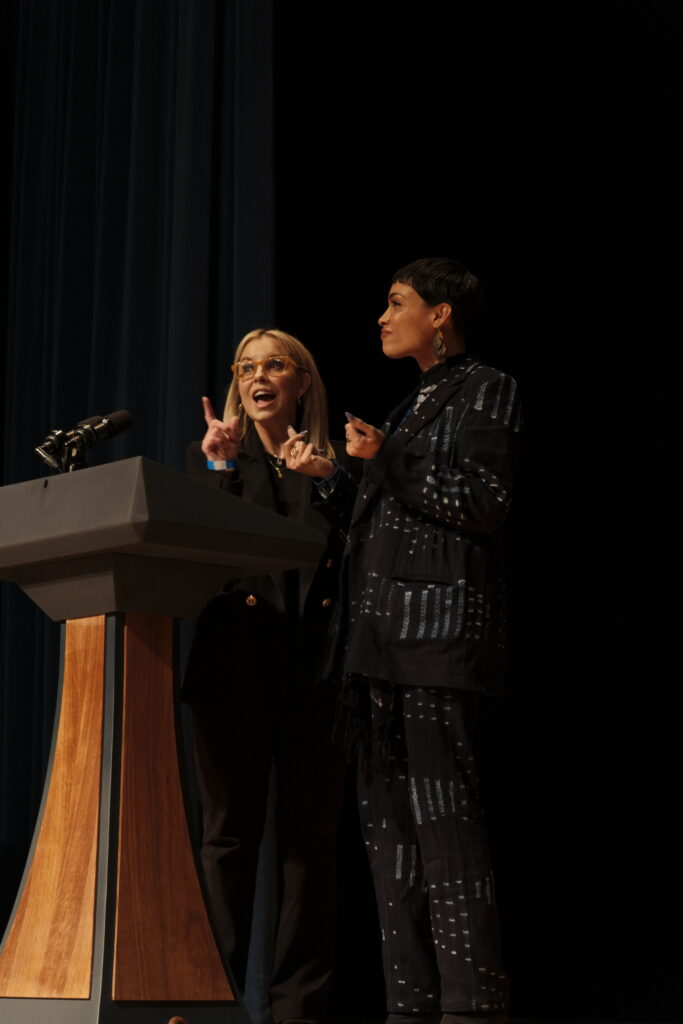 After a short intermission and adorning the stage with American flags and banners of the U.S. seal, the host introduced Schieve to the stage. Despite her nonpartisan stance, Schieve explains her center position is because she values the freedom of choice.
"I like the choice to choose," Schieve said. "I like the choice to choose with my body."
Schieve stated Nevada is poised to lead the way for reproductive rights. Additionally, she revealed some facts about many majority led Nevada organizations: the Reno city council, Washoe County Commission and Nevada Legislature is majority female, currently.
Schieve then welcomed Dawson to the stage mentioning many of her acting accolades including "Rent" and "Men in Black II". Dawson made a joking comment about the long line of people wrapped around Church Fine Arts in the snow.
Finally, Schieve introduced Harris to the audience.
"We've all been waiting for this next wonderful woman that needs no introduction," said Schieve. "I don't think there is anyone bigger, better, badder, risk taker, ceiling breaker than this woman to lead us on this incredible, important issue."
Harris entered to a roar of applause from the audience and started off the talk saying "we are in many ways living in uncertain times."
Harris recounts the various issues Americans believed were settled long ago. Among the political issues, she cited the overturning of Roe v. Wade by the Supreme Court. The landmark decision, overruled by the Dobbs v. Jackson Women's Health Organization decision in 2022, allowed states to independently decide abortion policies.
Harris states laws are being proposed around our country by extremists who call themselves leaders.
"Laws are being proposed around our country by extremist, so-called leaders, that would criminalize health care providers," said Harris. "Laws that would punish women. Laws that don't even make an exception for the violence and violation of rape and incest."

Harris also mentioned her background as a courtroom prosecutor who specialized in cases against women and children. She stated these laws would "deprive" these women of their liberty and
Additionally, Harris believes if someone calls themself a leader, they should have some level of empathy and understanding of words and actions.
Further into the talk, Harris talked about how students are leading the efforts in abortion care and reproductive rights. She tied it back to her parents, saying when they were students they fought in the Civil Rights Movement.
"Some of the best moments in our country that have been about the expansion of rights have been led by students," Harris recalled.
Harris encouraged students to lead the movement in advocating for reproductive rights. Students are at the head of this movement and it requires their leadership, said Harris.
"Around our country, people are suffering," said Harris. "Please lead in this movement and build up the energy and the momentum to defend our democracy and to make decisions about their own lives and about their own government."
According to Schieve, when she asked people what they wished to see Harris talk about they answered: Mifepristone, more widely known as the abortion pill. The Food and Drug Administration determined the safety of the drug, but lawmakers and lobbyists — specifically in Florida — are challenging the efficacy of the medication based on a political agenda, according to Harris.
"They [politicians] went to this court in Texas, believing that that judge would do exactly what that judge did," said Harris. "Which is to attempt to invalidate this medication."
Harris indulged everyone to "look in your medicine cabinet" and imagine what it would be like to have medicine taken out of that cabinet by a political agenda.
One of the moderators said Mifepristone also helps aid women in miscarriages, to which Harris agreed and said the case will ultimately fall hardest on their shoulders.
Harris said there is a political attack on the public health system in America. Furthermore, Harris talked to health care professionals and they are concerned about the trust between patients and doctors.
Additionally, Harris mentioned Mifepristone was approved 20 years ago. The medication has been prescribed and was deemed as safe and effective for its prescribed use.
Harris told the story of Amanda, a Texan woman, who went to the emergency room three times in need of reproductive care after a miscarriage. The hospital denied care until she developed sepsis, a life- threatening systemic infection. Amanda's story is not an outlier. In March, five other Texas women sued the state after being denied abortion care.
"We have to hear them and see them even if they may not have the ability to be on the local news every night," Harris said. "We have to know what's happening, to feel a responsibility — to stand up.
Mayor Schieve described "a bounty in Texas" for women who want to exercise their right to their body. The Texas Heartbeat Act, officially known as SB. 8, prevents physicians from performing an abortion once a fetal heartbeat is detected and criminalizes performed or induced abortions. The act only allows exceptions for medical emergencies. Pregnancies resulting from rape or incest are not considered exceptions. People in violation of the law must pay at least $10,000 for statutory damages per abortion in addition to court costs.
Schieve speculates this encourages rape and is a fall back for the country.
"You know you can rape them, get them pregnant, hold them hostage basically for the rest of their lives." Schieve explained.
Harris is an opponent of six-week abortion bans. The restriction takes place in one of the earliest stages of fetal development. Research published by the National Library of Medicine found women, on average, discover pregnancy at 5.5 weeks. Barriers in healthcare access make it difficult for women to receive an abortion in the designated time frame. Moreover, most women do not know they are pregnant until much later.
Harris discussed national legislative efforts. Harris mentioned the Emergency Medical Treatment and Labor Act. Under the act, no person can be denied access to emergency services. The Biden-Harris administration seeks to reinforce the obligation described in EMTALA for patients who are experiencing pregnancy loss. Additionally, the vice president called for the codification of Roe v. Wade to protect bodily autonomy from further attacks.
Harris addressed the concerns of pro-choice legislation breaching their First Amendment right to practice their religion. She clarifies that people can choose to practice their faith with their religious leaders, but the government does not have a place to restrict individual freedom.
"This is not about converting people …" Harris said. "It's just saying the government shouldn't be doing this."
Harris also reminded the audience to remember the importance of elections in a democratic society, especially local elections. The overturn of Roe v. Wade gave state and local governments a chance to enforce unfair reproductive policies.
"Who your sheriff is matters," Harris stated. "All your prosecutors matter, who your general attorney is, and then it matters who your governor is."
Harris encouraged students to use their ability to tell people they're not judged and have rights. Throughout the talk, Harris focused on the role of younger generations to create political change. At the University of Nevada, Reno, 54 percent of the student population are female, something Schieve mentioned at the beginning of the talk.
"The largest cohort to be affected by this are college-aged women," Harris said.
Harris explained all of this lands at the United States Congress because this is where federal legislation is passed.
Gun violence
The conversation shifted to discussions about gun violence and gun control, which Harris sad is the number one killer of children in America. According to a Center for Disease Control study conducted in 2020, firearms were concluded to be the number one cause of death for children, with over 3 thousand children killed by one.
Additionally, Nevada is the site of the United States' deadliest mass shooting: the October 1 Harvest Festival mass shooting, also referred to as 1 October by Nevadans. In the attack, the gunman killed 60 people and wounded at least 400 people.
Harris advocates for universal background checks and more stringent gun control legislation.
"We should have universal background checks because you might want to know if someone is a danger to themselves or others before you let them buy a gun, red flag laws," said Harris.
Harris talked further about how students are scared to go to school or certain classrooms if there is not proper coverage for them. She also acknowledges the psychological trauma this causes for people.
"You know, I grew up in California. We learned to duck if there was an earthquake, not because there was a shooter," said Harris. "I talked to students, younger students in particular … talk about 'well, you know, I don't like going into fifth period because that classroom doesn't have a closet.'"
Students also feel unsafe if they're sitting in a position where their back is facing the door. Harris urged the audience the country has to act on this trauma.
Additionally, Harris believes gun control laws and the Second Amendment can exist at the same time.
Wrapping up the conversation, Harris said she has met with over 100 world leaders as a representative of the U.S. and how as one of the best, self-proclaimed democracies in the world we must all be role models of that behavior.
"Do it the Nevada way, because you know how to get stuff done."
Emerson Drewes, Jessica Cabrera and Lizette Ramirez can be reached via email at edrewes@sagebrush.unr.edu or via Twitter @NevadaSagebrush.