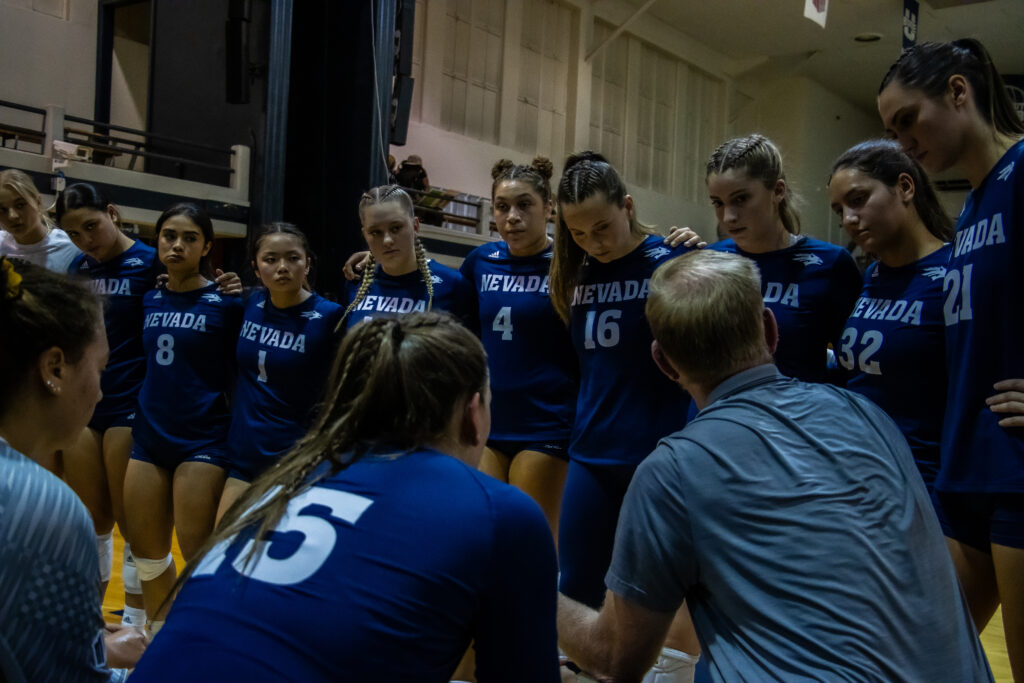 Nevada Volleyball hosted its second conference game of the season on Sept. 23, where they took on the United States Air Force Academy Falcons, dropping the match 0-3.
The Pack started the game off with the same starting lineup from their previous matches, including Bella Snyder, middle blocker, Nicanora Clarke, outside hitter, Tehya Maeva, setter, Sia Liilii, outside hitter, Hikialani Kaohelaulii, libero, and Jordan Schwartz, middle blocker.
In the first set, the Pack did not see a lead on the Falcons. Nevada took many attempts at the net and were getting their kills mostly from the top of the block on the left side. However, the kills were not enough. After the Wolf Pack took their first timeout at 8-13, Air Force kept the lead throughout the rest of the set. Nevada dropped set one 19-25.
Nevada stayed within three points of Air Force in the following set. With a kill from Jaclyn Sanchez, Nevada setter, followed by a service ace for Maeva, then a hitting error from Air Force, the Pack tied it up to 13-13. Nevada saw their first lead of the match at 14-13 after Maeva's second service ace of the night. The lead would bounce back and forth until a tie at 21-21, where the Falcons gained a one point lead with a kill against Nevada, making it 21-22. The Wolf Pack gained one more point before dropping set two 22-25 to Air Force.
Set three began with the same lineup for Nevada as prior sets, but the Pack led more in this set compared to the previous ones.
Both teams were within two points of each other, leading back and forth until a tie at 9-9 after Platt scored for Nevada. The Pack and the Falcons continued to trade the lead until another tie at 12-12.
The closeness between points began to fade when Air Force took a five point lead on Nevada, making it 12-17 followed by Nevada taking a timeout. Nevada quickly sided out after the timeout, gaining another point before dropping three consecutive rallies to Air Force making it 13-19.
The two teams then started to go one to one on earning points, which lead to Air Force continuing with the lead and the Wolf Pack dropping set three 17-25.
The leaders of the Pack included:
Liilii with eight kills
Platt with seven kills
Clarke with two blocks
Maeva with 14 assists
Kaohelaulii with 13 digs
Nevada had an overall hitting percentage of .119 against the Falcons along with nine aces, four blocks and 23 kills.
The Wolf Pack is now 4-9 overall and 0-2 in conference going into another week of volleyball where they will first host Fresno State Sept. 26 in the Virginia Street Gym.

Lexi Trent can be reached via email at derekraridon@nevada.unr.edu or via twitter @LexiTrentUNRJ