The name "Fiona Apple" is a name that resonates with depth, vulnerability and rawness in the music industry. And, despite her undeniable influence on the alternative genre and artists, her name seems to be underdiscussed. Her musical journey from a teen sensation in the 1990s to a revered songwriter and storyteller in the 2020s was not only a transformation for her, but a pivotal role in redefining the contours of alternative music.
Growing up, I was familiar with classics like "Criminal" off her debut album "Tidal," as my mom was a huge fan of Fiona when "Tidal" was released in 1996. I give my mom a lot of credit for introducing me to her music, and I'm not sure if I would have discovered Fiona Apple on my own if it weren't for her. When Fiona's most recent album "Fetch The Bolt Cutters" came out in 2020, I was close to the same age as my mom was when "Tidal" came out, and it felt like a full-circle moment — like the enthusiasm was being passed down to the next generation.
In 1996, the music industry was dominated by grunge, hip-hop and bubblegum pop, as it had been for several years. When Fiona Apple entered the scene in 1996 at only 18-years-old, she delivered a breath of fresh air. "Tidal" was a brutally honest and introspective testament to her songwriting abilities. Apple's songs dove into themes of love, pain and self-discovery, which would end up being themes that follow through in all of her future albums. Her way of storytelling resonated with many at that time, including my mother. "Tidal" was Apple's biggest success commercially, which seems unusual as it was only a debut album, and the amount of acclaim it received was also rare for a debut. Apple's songwriting and vocal delivery is what set her apart from other big hits of the 1990s.
Apple's voice can be described as sultry and silky smooth, and if you've ever listened to her, you can tell immediately that it's her. Her musical style is heavily influenced by jazz, but when she combined it with rock and even classical elements, it made for a soundscape that separated her from the more mainstream crowds.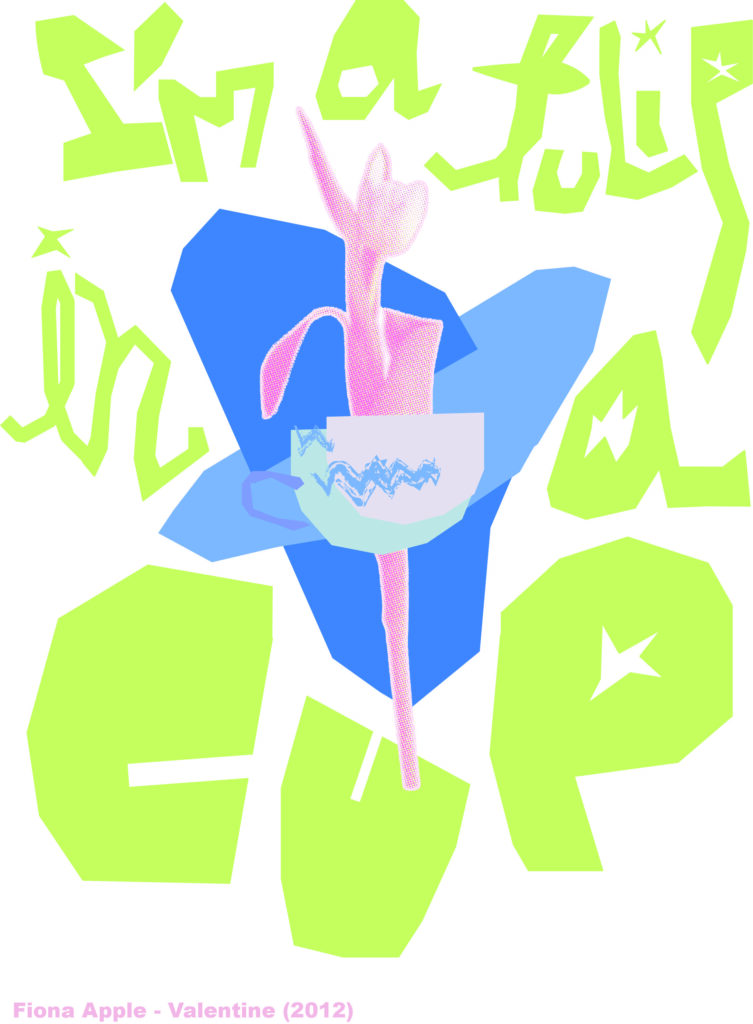 With each subsequent album, Fiona Apple continued to push the boundaries of the alternative genre. Her sophomore album "When The Pawn…" (a shortened name from a much longer poem) was an even grander showcase of Apple's songwriting abilities. At the time "When the pawn…" was released in 1999, Apple was more negatively portrayed in the media. Her vulnerability and honesty unfortunately left her open to criticism rooted in misogyny. "When The Pawn…" was not as commercially successful as her debut album, but it has since become a fan-favorite.
Fast forward to 2005, and Apple had released her third album "Extraordinary Machine" after going six years without any new music. Some critics regarded the album less favorably than her previous works, and were starting to grow tired of the familiar sounds. However, "Extraordinary Machine" was when Apple began experimenting with some new and unique instrumentation, and so this album would end up playing a key role in her evolution as a musician. "Extraordinary Machine" featured not only brilliant songwriting just as her previous works did, but it had a shift in its themes that were more playful and reflected on Apple's self-growth. The production featured unconventional percussion and a greater emphasis on orchestration, which had critics divided upon its release. In 2023, "Extraordinary Machine" is looked upon more favorably than it was in 2005, which just solidifies Apple as a timeless artist with work that ages even better than a fine wine.
In 2012, Fiona Apple released "The Idler Wheel…" (once again a shortened title from a poem Apple had written herself). It had been 7 years since the release of "Extraordinary Machine," which was an even longer pause than Apple's initial hiatus in the early 2000's. Unlike her previous albums, "The Idler Wheel…" was much more stripped down and raw, which was another way of Apple challenging musical norms. This album's instrumentation was far more simple, but there were some strange instrumentation credits despite the very minimalist production.
If you look up the instrumentation credits for "The Idler Wheel…," you'll read off things like pillows, thighs, and a bottle-making machine. Apple's experimentation with percussion is complimented by perhaps the rawest vocals that we had heard from her at this point in her career. Apple's way of throwing together sounds of household items with more conventional instruments in this album was an important moment for her, as she was beginning to redefine herself once again. The lyricism followed similar themes that we had seen in her previous works, but somehow they were even more confessional than before, and her emotional vocal delivery greatly enhanced the listening experience.
My favorite work from Apple, however, was her 2020 release "Fetch The Bolt Cutters." Fans had to wait an excruciating 8 years for this album, but it was worth the wait. "Fetch The Bolt Cutters" came out at a time where people were living in isolation, and the album explored the idea of living in confinement, which was very timely despite the album having been written and recorded before the pandemic even happened. The "confinement" theme of this album was complemented with unconventional production, similar to "The Idler Wheel…", but this album had even more new sounds like dogs barking, pots and pans, and a lack of professional recording equipment. The result was a very unpolished and intimate atmosphere, which was another departure from her previous works.
At this point it feels like she has redefined herself so many times, and she continues to amaze me in the ways she makes her new work different from the last. Overall, "Fetch The Bolt Cutters" was a big middle finger to the industry's obsession with "perfect," and a celebration of the unconventional.
Beyond her music, Apple's unfiltered personality inspired a new generation of musicians who want to be authentic. Apple's refusal to conform to societal expectations, her battles with the industry, and her advocacy for mental health all contributed to her status as an icon for those who felt marginalized or misunderstood.
With Apple nearly 30 years into her career, we see an artist who not only went against music norms and societal expectations, but also someone who has changed the landscape of the alternative genre and paved the way for new artists who want to embrace their uniqueness.
Nick Stewart can be reached via email at ns@sagebrush.unr.edu or on Twitter @nickk_stewart.