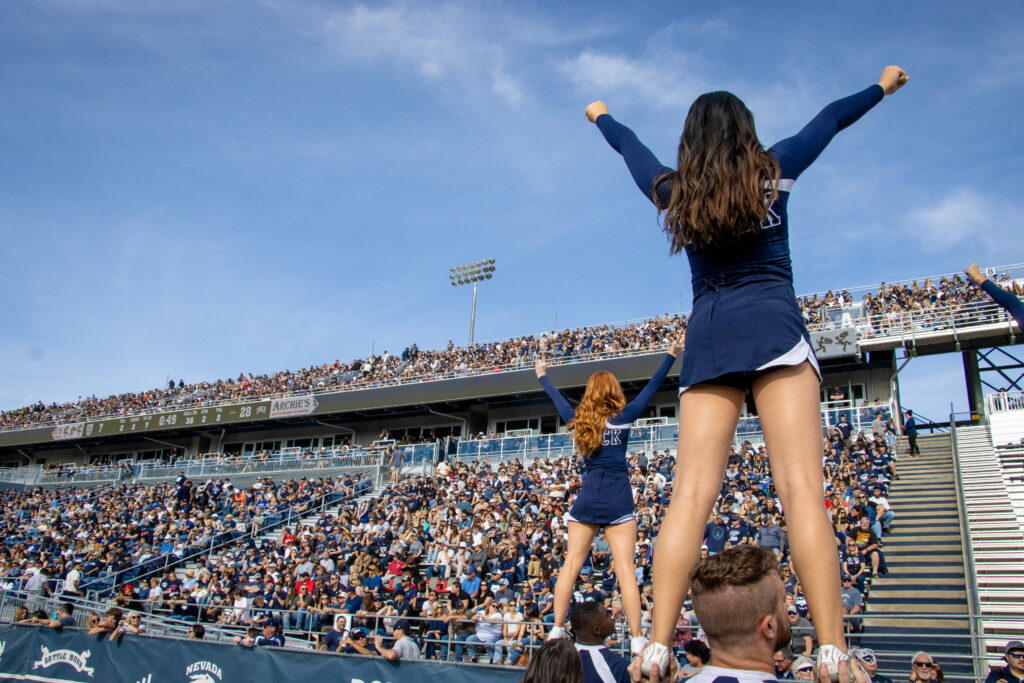 With football getting into the second half of its season and every other fall sport program at different points in theirs, here is where each team stands as of Oct. 16.
Women's Soccer: 6-6-5 overall, 4-3-1 in conference
The Wolf Pack women's soccer team currently has a record of 4-3-1 in conference play, which is the most conference wins that the team has had since 2009, when they went 5-3 in conference. Their overall record is currently 6-6-5 and includes the most wins that the team has had since 2015. Their most notable win this season was against San Diego State University, who are currently tied for first in the Mountain West Conference with Boise State, who Nevada will face on Oct. 19. Nevada is currently ranked fifth in the Mountain West conference.
Currently leading Nevada in goals scored is Luz Arreaga, forward, with five goals scored so far. Arreaga is followed by Emily Rich, forward and Gabby Brown, midfielder, who each have four goals. Nevada has a total of 22 goals so far this season, which is less than their average opponents' goals scored, which is 25. However, The Nevada defense greatly makes up for the lower number of shots on goal. The Nevada goalkeepers have made a total of 77 saves. Fifty-three of those saves were made by Ally Larkin, Nevada goalkeeper.
Women's Golf
Nevada women's golf has competed in three tournaments so far, most recently competing in the New Mexico Golf Iconic Classic. Nevada finished second in round one, fifth in round two and third in round three in that tournament. The Wolf Pack women have finished sixth, second, and third in their three tournaments, marking a successful season so far.
Much of that success has come from Leah John, a fifth-year senior at Nevada. She won the New Mexico tournament, to take her second consecutive individual title. After winning the Pat Lesser Harbottle Invitational in Tacoma, John finished 54-holes in New Mexico with a score of 203. It was the second-best mark in school history, only behind Victoria Gailey's score of 201 last season. John also won one title last season and she is one of four Wolf Pack players with multiple titles in her career.
Women's Volleyball: 6-13 overall, 2-6 in conference
The Nevada women's volleyball team has an overall record of 6-13 and 2-6 in conference so far in the 2023 season. In the past month, some of Wolf Pack's top leaders hit major career goals, such as Sia Liilii with 500 career points and 200 kills this season, Gabby McLaughlin with 500 career points, Kia Kaohelaulin ranked twenty-first in the country with 750 career digs and and Jordan Schwartz ranked 19th in the country with 57 blocks. The team had a rough start to their conference play but have a current winning streak of two. Nevada is currently tied for last in the Mountain West Conference standings.
Although the rankings are low, the team has taken opponents to a fifth set in over half of their matches played, but not being able to execute the win for the majority of them. Nevada Head Coach Lee Nelson has kept the line up mostly the same while going back and forth between a 6-2 and 5-1 rotation differentiating in games. The team has won its past two games running a 5-1 rotation which is helpful offensively, but with no rotations for defensive specialists to help defensively, the team lacks coverage behind their blockers.
Men's Golf
The Nevada men's golf team has competed in three tournaments as of Oct. 16. In two of them (The Husky Invitational and Mark Simpson Colorado Invitational), the men started out on top, finishing the first round third and second of each respective tournament. However, the men's performance would digress as the tournament continued. The team would place tied for ninth out of 14 teams in the Husky Invitational and seventh out of 17 teams in the Colorado Invitational.
In their other tournament, the Marquette Intercollegiate, the men started the tournament off tied for sixth out of 12 teams, but wouldn't see the top half of the rankings after that, finishing ninth.
If the men's golf team wants to be able to compete this year, they will need to fix their performance down the stretch. Starting out strong, then slowly but surely losing their positioning trend is not a good look, even if it is so early in the season.
Football: 0-6 overall, 0-2 in conference
Heading into the 2023 season, the Nevada Football team was optimistic, looking to bounce back from a 2-10 2022 campaign. In an effort to bolster their No. 120 offense and No. 103 ranked defense from the year prior, the team made substantial changes, including the acquisition of 13 transfers, most notably Brendon Lewis, Quarterback who leads the team in both passing and rushing yards this season.
However, the initial enthusiasm has been short lived as Nevada's current record stands at 0-6 following a 45-27 loss at home on October 14, extending their losing streak to 16 games. Despite high expectations for improvement from the 2022 season, the team has regressed, averaging fewer points per game at 17.3 and allowing 39.5 points per game.
With six games remaining in the season, the Nevada football team is still struggling to establish a clear identity on both offense and defense. Throughout these struggles question marks have risen, regarding the quarterback and head coach positions. In light of these challenges, Nevada will have an opportunity to change the narrative on Saturday, October 21, as they travel to San Diego, Calif. to take on the San Diego State Aztecs at 6:00 p.m.