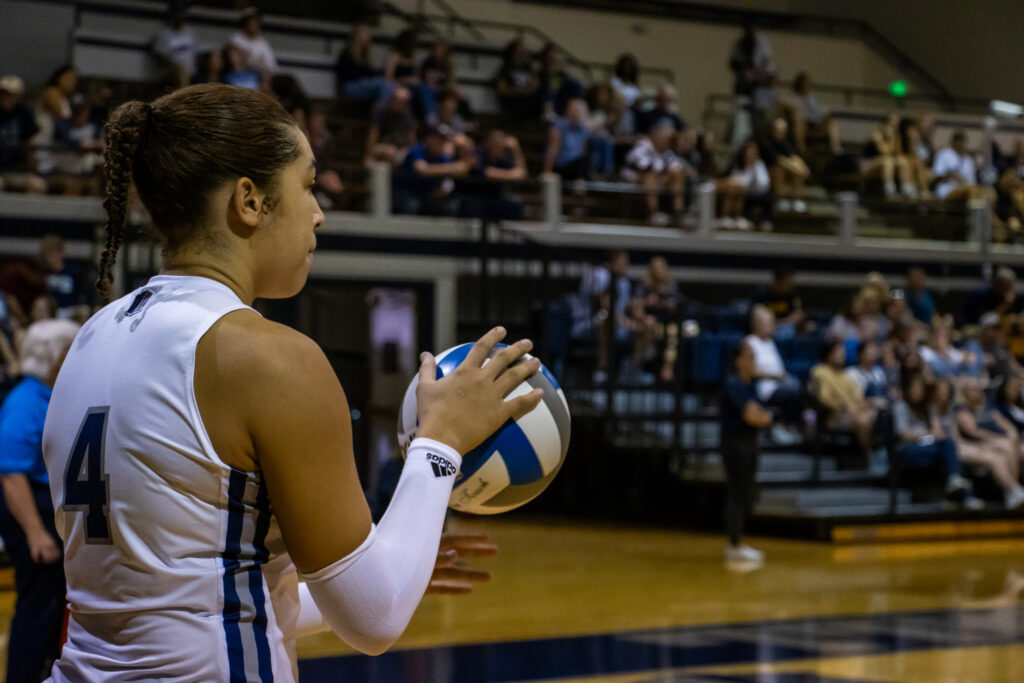 Nevada Wolf Pack volleyball traveled to Logan, Utah on Oct. 5 where they played in their fifth conference game of the season against the Utah State University Aggies, dropping the game 0-3.
In past games, the Pack has relied on kills and aces from the service line to gain leads against their opponents. Nevada saw their least amount of offensive points this match against the Aggies.
With a high of only nine kills and one ace from Nevada, the offensive points fell short and caused three set losses in a row.
Nevada had an overall of 25 kills, one ace, 12 blocks and a .122 hitting average against Utah State.
In set one, Nevada did not see a lead on Utah State and fell short five points at the beginning of the set at 3-7. Although the Wolf Pack gained points off of their blocks and kills, it was not enough to keep up with their opponent's momentum and they fell under a 12 point lead from the Aggies. The Pack made two service errors in a row towards the end of the set, costing themselves the first set 11-25.
Nevada shifted the momentum going into the second set, which allowed them to gain its first lead at 2-0 with an error from Utah State and a service ace from Nicanora Clarke, Nevada outside hitter. After a tie at 3-3, the Pack gained another lead at 6-4 with a Utah State hitting error and a kill from Bella Snyder, Nevada middle blocker.
Nevada did not see another lead after this, as Utah went on a 5-1 run over Nevada and kept it throughout. The Pack gained a lot of points from their blocking assists and single blocks in the second set, but it was not enough to gain another lead over the Aggies. Nevada dropped set two 21-25.
In set three, Nevada kept the same momentum they had in set two, putting up the most set blocks they have had all season. The Wolf Pack had 12 blocks in the third set, breaking the previously held record of five for the 2023 season. The beginning of the third set started off with a 3-3 tie, although the Aggies stayed in the lead for the whole set, while Nevada had the momentum to keep up throughout. The Pack had a three point gain with kills from Sia Liilii, Nevada outside hitter, Jordan Schwartz, Nevada middle blocker, and Clarke.
This run for the Wolf Pack was not enough, as they dropped set three 20-25.
The leaders of the pack included:
Clarke with nine kills, six blocks, and one ace
Schwartz with nine kills and eight blocks
Tehya Maeva with 23 assists
Hikialani Kaohelaulii with 11 digs
The Pack is now 4-13 overall and 0-6 in conference. The Nevada Wolf Pack heads to Boise State next where they will play in their sixth conference game on Oct. 7.
Lexi Trent can be reached via email at derekraridon@nevada.unr.edu or via twitter @LexiTrentUNRJ