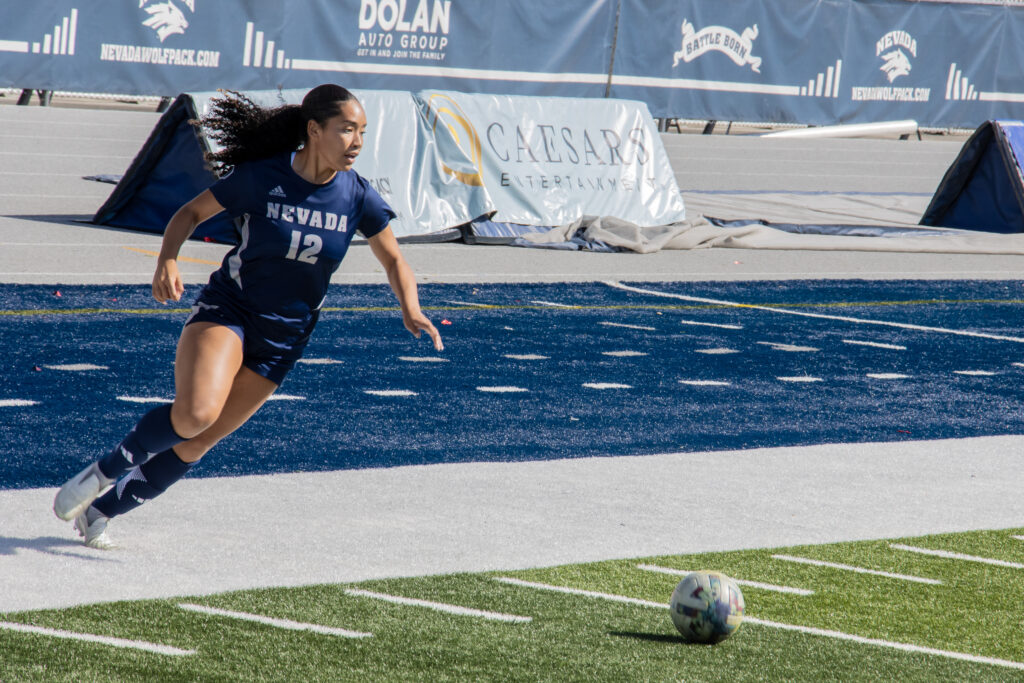 The Wolf Pack faced off against Utah State University on Oct. 22, and after an aggressive back and forth between Utah State and the Wolf Pack, a late goal scored by the Aggies allowed them to secure the win, giving Nevada their fifth loss of the season.
The first half saw seven shots on goal from Nevada and 12 from Utah State, though neither team scored. This was due in part to Emily McCue, Nevada goalie, and Diera Walton, Utah State goalie, who made seven and two saves, respectively. Nevada also had five fouls in the first half and one yellow card on Caly Ah Soon, Nevada midfielder, in the 38th minute. Utah State only had six fouls in the whole game, while Nevada had a total of 10.
Both teams were able to score in the second half despite there being less shots on goal. Nevada had three shots, while the Aggies had six. Utah State scored their first goal of the game in the 49th minute, shot by Tess Werts, Utah State forward, with an assist by Kelsey Kaufusi, Utah State defender, and Kaylie Chambers, Utah State midfielder. Nevada was able to score in the 55th minute with a goal by Eva Wees, Nevada forward, for her first goal of the season.
The game ended with one more goal in the 71st minute for Utah State, scored by Nicole Hadlock-Hardy, Utah State forward, with an assist by Bizzy Arevalo, Utah State forward, and Rine Yonaha, Utah State midfielder. Nevada was unable to score after Hadlock-Hardy's goal, but got one more yellow card in the 89th minute on Emily Rich, Nevada forward.
Nevada's season record is now 6-8-5, while their conference record is 4-5-1. Their last game of the season will be played at Mackay Stadium on October 26 at 7 p.m. against longtime rival University of Nevada, Las Vegas.
Lily Walker can be reached via email derekraridon@nevada.unr.edu or via Twitter @RaridonDerek