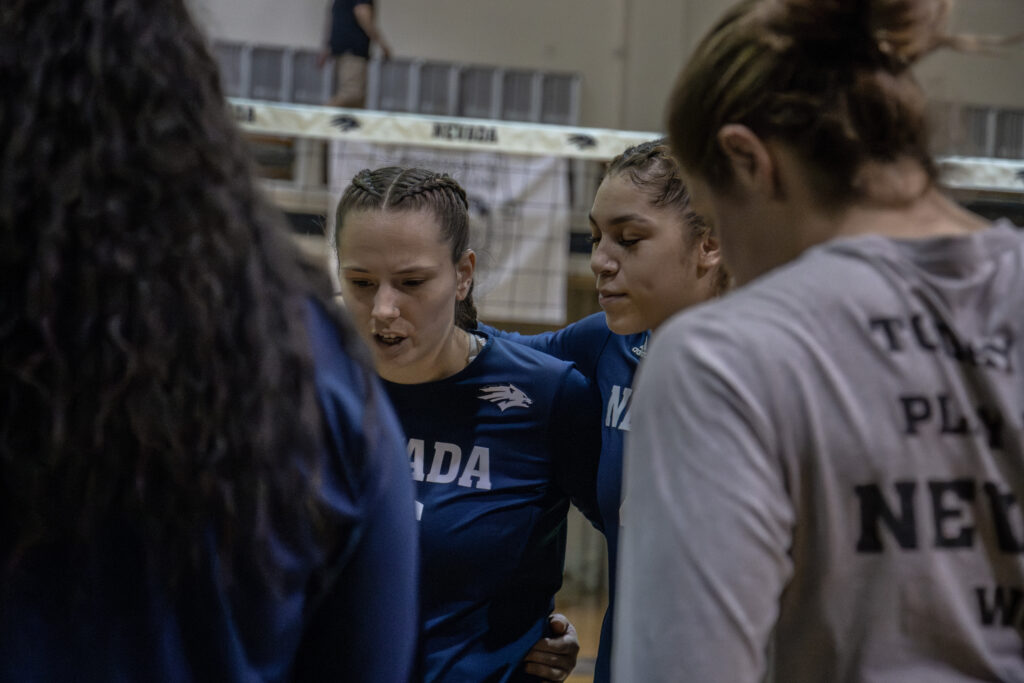 The Nevada Wolf Pack volleyball team traveled to Fresno, California on Oct. 24, where they took on the Fresno State Bulldogs in their 11th conference match of the season. Nevada dropped the match 1-3, but they saw multiple changes in the lineup made by Lee Nelson, Nevada Head Coach.
Players such as Lexi Applebach, Nevada libero, Emilie Parker, Nevada defensive specialist, Francesca King, Nevada setter and Koen Makaula, Nevada middle blocker, saw a substantial amount of playing time in all four sets, which was a major switch up for Nelson's usual substitutions.
Before this match, Applebach, Parker and Makaula saw little time on the court this season; meanwhile, King saw her first substitution in the match against the Bulldogs.
"I feel incredibly happy that I got my chance to show everyone what I am capable of," King said. "I've been craving for this moment, and it felt great to know that my hard work is paying off."
Nelson has kept the lineup the same for the most part. He usually switched between a 6-2 and a 5-1 rotation throughout different games and has made the common decision to keep the top hitters all the way around on the court, until now.
Nelson switched to a 6-2 rotation going into set three, utilizing King as the secondary setter, while having Parker and Applebach in the back row defensively.
Teamwork between Parker and Applebach relieved any nerves the two had, which gave the Nevada hitters a chance to dominate as many kills as they could offensively.
"I always know I can count on my teammates to have my back whenever nerves come into play," Parker said. "So just taking a deep breath and getting a reassuring look from a teammate really helps me."
The substitutions in the back row was a change for Nevada so they can focus on its offense and give the hitters breaks in between the rotations. Assists in the sets had a lot to do with Applebach's knowledge in the back row, and her ability to navigate where the Bulldog's were going to hit allowed her to effectively cover.
Common offensive leaders of the Pack, such as Sia Liilii, Nevada outside hitter, Gabby McLaughlin, Nevada outside hitter and Bella Snyder, Nevada middle blocker, still came in to dominate kills and blocks as they did in previous games.
As seen in two games prior this season, Nelson made similar substitutions at the tail end of the sets when opponents went on major leads, but this game was different.
"I always have the mindset of being locked into the game so when I do get thrown into the game, I know exactly what is going on and how to help my team better." Applebach said.
Nelson decided on a lineup switch before and during set one and stuck with it through all the following three sets.
"It was different seeing a new lineup for one of the first times this season." said Makaula "But it felt great to be given another opportunity to show what I've been working hard for!"
The last matchup between Nevada and Fresno was on Sept. 26 when Nevada went 2-3 against the Bulldogs. Although they won one more set from the last matchup to now, the stats were substantially different.
The Wolf Pack had an overall hitting percentage of .154 against the Bulldogs, which is .078 better than their previous match against Fresno.
Nevada saw 38 kills, 30 assists, eight aces, and nine blocks this match.
The leaders of the Pack against Fresno include:
Liilii with 13 kills, earning her 500 career kills
Snyder with five blocks
Tehya Maeva, Nevada setter, with 20 assists
Applebach, Nevada libero, with 13 digs
McLaughlin with three aces
Nevada dropped the game against Fresno 1-3 making them 6-16 overall and 2-9 in conference play. They are back in the Virginia Street Gym this Saturday where they will face the San Jose State Spartans Oct. 28 at 1 p.m.
Lexi Trent can be reached via email derekraridon@nevada.unr.edu or via Twitter @LexiTrentUNRJ